Aristotle and Dante Discover the Secrets of the Universe: The multi-award-winning international bestseller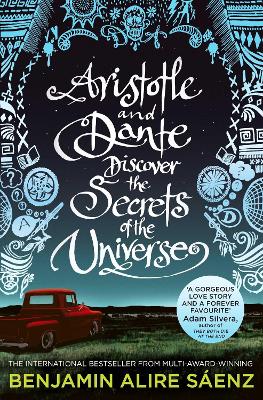 By Author / Illustrator
Benjamin Alire Saenz
Genre
Romance & Relationships
Age range(s)
14+
Publisher
Simon & Schuster Ltd
ISBN
9781398505247
Format
Paperback / softback
Published
27-05-2021
Synopsis
Aristotle and Dante Discover the Secrets of the Universe is the beloved cult classic about family, friendship and first love, from award-winning author Benjamin Alire Saenz. This lyrical novel will enrapture readers of John Green, Love, Simon and Call Me by Your Name.

Aristotle is an angry teen with a brother in prison.  Dante is a know-it-all who has a unique perspective on life.   When the two meet at the swimming pool, they seem to have nothing in common. But as the loners start spending time together, they develop a special friendship - the kind that changes lives and lasts a lifetime. And it is through this friendship that Ari and Dante will learn the most important truths about the universe, themselves and the kind of people they want to be.

This incredibly moving and powerful Printz Honor Book follows two teen boys learning to open themselves up to love, despite the world being against them.  'A tender, honest exploration of identity' - Publishers Weekly
See sequel: Aristotle and Dante Dive into the Waters of the World
Reviews
Stephen
Friendship, family, secrets, love, and identity all come together in this brilliantly written novel by Benjamin Alire Saenz, Aristotle and Dante Discover the Secrets of the Universe, set in the heat of New Mexico. Ari (Aristotle) is a loner, preferring his own company and is happy with that. He has a brother in prison that no one will talk about at home and a Vietnam veteran as a dad who has his own secrets. One day at the swimming pool a stranger, Dante, offers to teach him to swim - an offer he reluctantly accepts. Soon the two become friends, with Ari in particular enjoying the novelty of having a friend, a friendship that grows when Ari ends up in hospital after being knocked down by car. When Dante and his family move to Chicago for a year, he reveals to Ari in a letter a secret that will have a huge effect on his life, as Ari begins to realise how much he misses his friend. But will their friendship survive this separation, and will Ari discover the true secret of his universe missing from his life?
What an amazing novel! I really enjoyed this from start to finish and what a finish! I was kept guessing right to the last page! As to whether Ari and Dantes friendship would be a bromance or something else! It was wonderful to see the friendship develop between teenagers Ari and Dante from tentative first steps to firm friends, finding out about each other and growing closer despite being two very different people. It was also heartbreaking at times to see Dante's love for Ari go unrequited. It was very insightful look at friendship between teenage boys, especially at the transition from boyhood to manhood stage. Despite both sets of parents being quite different from each other, their love for their sons was evident and insightful, and I loved that the parents turn out to be the key to Ari and Dantes future! Sometimes parents are worth listening to!
Another plus with this novel is the way the layout varies. For instance, some chapters are 10 pages or more whilst others are one small paragraph, with lists and letters included. For me this made reading the novel a very dynamic and engaging experience. Although the author has set the novel in 1980s America, the writing is so strong, fresh and character based it could be set now, though there are enough references to identify this as the 80s!
Identity is also a theme also running through the novel as Ari and Dante both have Mexican American heritage and Dante in particular has issues with his Mexican and American identity - who is he really, should he be more one than the other, and readers may relate to this struggle over identity.
Young people coming to terms with their sexuality feature in the novel, and the questions and doubts expressed by Dante about acceptance and not wanting to hurt the people he loves. This will be familiar to many and a comfort to those readers currently in the same situation.
Overall this is a page turning, heartwarming and beautiful story of two teens growing friendship, where sometimes the biggest obstacle to your happiness is yourself. You'll laugh, you'll cry, you'll love this book. And love is something that runs through the story in all its different forms as Ari reflects on when he says "Maybe everyone loves differently. Maybe that's all that matters." That's a secret of the universe worth sharing.
368 pages / Reviewed by Stephen Leitch, school librarian
Suggested Reading Age 14+
Other titles