Aristotle and Dante Dive Into the Waters of the World: Sequel to Aristotle and Dante Discover the Secrets of the Universe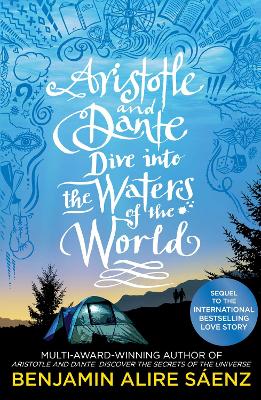 By Author / Illustrator
Benjamin Alire Saenz
Genre
LBGTQ+
Age range(s)
14+
Publisher
Simon & Schuster Ltd
ISBN
9781398505278
Format
Paperback / softback
Published
12-10-2021
Synopsis
The highly anticipated sequel to the beloved cult classic about family, friendship and first love, from award-winning author Benjamin Alire Saenz. This lyrical novel will enrapture readers of Love, Simon, John Green and Call me by your Name.  A love story like no other.

In Aristotle and Dante Discover the Secrets of the Universe, two boys fell in love. Now they must discover what it means to stay in love and build a relationship in a world that seems to challenge their very existence.

Ari has spent all of high school hiding who he really is, staying silent and invisible. He expected his senior year to be the same. But something in him cracked open when he fell in love with Dante, and he can't go back. Suddenly he finds himself reaching out to new friends, standing up to bullies and making his voice heard. And, always, there is Dante - dreamy, witty Dante - who can get on Ari's nerves and fill him with desire all at once.

The boys are determined to forge a path for themselves in a world that doesn't understand them. But when Ari is faced with a shocking loss, he'll have to fight like never before to create a life that is truthfully, joyfully his own.
Reviews
Stephen
"Love is easy and it's hard," as Ari and Dane find out in Aristotle and Dante Dive into the Waters of the World, the incredible sequel to Aristotle and Dante Discover the Secrets of the Universe.
Starting where the last book left us with Ari and Dante in the desert, the story follows their journey of discovery over the next year of each other as lovers not just friends and wanting time to just be together. Despite this, Ari still doesn't feel confident in speaking his true feelings to Dante and starts writing secret letters to Dante in a journal to help work out what he's feeling. Ari still has doubts about how people will see their love and whether they will be accepted, yet a chance conversation with a fellow school pupil, Cassandra, shows him that people are more accepting than he realises - even his arch school enemy.
This leads Ari into another new journey of discovery - that of the joys of friendship, something he has never really experienced, having been very much a loner at school. Now with Cassandra, Susie and Gina by his side and Dante as his boyfriend, the return to school after the summer break is a new and exiting time as a new confident Ari starts to emerge. Yet a tragedy could undermine everything in Ari's world and he will need all the love of his friends to get through this, and there is also his relationship with Dante to consider as the end of high school may mean different paths them.
It's great to be back in the lives of Ari and Dante over their last year in. High School, especially as the first novel ended right at the point Ari and Dante discovered their love for each other! There is so much to enjoy in this book and for me watching this relationship grow through all the highs, lows, complications and joys of first love was truly beautiful and positive. The writing in these sections of the novel was heartwarming and a joy to read, especially their camping trip together when Ari reflects "I had found where I belonged". Another of my favourite parts (and not wanting to give too much of the plot away) is when Ari makes a speech at a funeral. The writing of this scene was so moving and emotional, leaving me heartbroken yet so proud of Ari. Both Ari and Dante's parents are so supportive and positive of their sons and sexuality which was great to see.
Describing themselves as cartographers, mapping out the new lands opening up to them, was very clever and so apt as first love does open up a new world of experiences and adventure for people. The mix of long and short chapter lengths works well for keeping the story moving, even if on occasion I felt the the story drag a little. There was certainly nothing holding back Ari's new friends at high school - Cassandra, Gina and Susie who are all very strong characters, willing to stand up for what they believe in at school!
AIDS in the 80s is a theme that peppers this book and I felt was more noticeable than the previous novel, giving an insight into the AIDS crisis developing in America. These sections would make an interesting discussion point with students looking at development and responses to AIDS. This book would also be useful to promote as part of LGBT+ history month because of some of the LGBT+ attitudes and issues from an 80s perspective.
Saenz has written an excellent sequel that could easily be read as a standalone novel, too. I hope there is more to come in the story of Ari and Dante. They may have dived into the waters of the world but there is still so much of the world for them to explore.
528 pages / Reviewed by Stephen Leitch, school librarian
Suggested Reading Age 14+
Other titles