Around the World in 80 Trees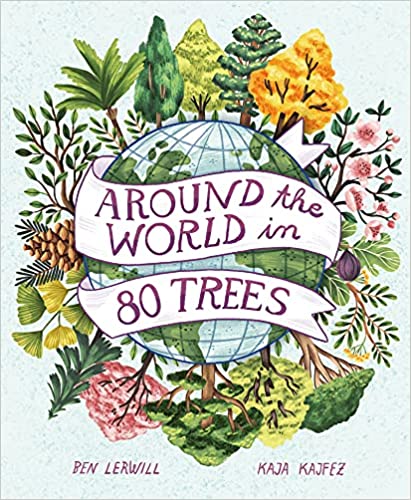 By Author / Illustrator
Ben Lerwill, illus Kaja Kajfez
Genre
Non Fiction
Age range(s)
9+
Publisher
Welbeck
ISBN
9781803380124
Format
Hardback
Published
08-03-2022
Synopsis
Discover trees that give us beautiful flowers, delicious treats, and life-saving medicines - and bizarre trees with bloodred sap, fruit that can be used as soap, or even burned as candles. Learn how trees communicate with each other and how they helped us journey to the farthest reaches of our world. Bursting with blossom and the rustling of leaves, explore the tallest, the smallest, and everything in between.
Includes a stunning central gatefold that opens out to reveal all 80 trees and how they relate to each other. Focus spreads explore subjects such as the life cycle of trees, how they communicate with each other, why trees are vital to the Earth's health, and their importance to us.
A visual celebration of the huge variety of trees found across the globe, from those you know to those you almost certainly don't!
Reviews
Jane
Around the World in 80 Trees is a handsome hardback book that helpfully begins with a Contents page and ends with an Index. The former enables readers to navigate what otherwise might seem a slightly haphazard arrangement of geographically grouped species descriptions, interspersed with double page spreads on trees' physiological and reproductive features, their importance, and their need of human help. There's also a centrefold which opens out to show how trees are classified into different orders and families, with the division between flowering and non-flowering types made clear. Thus, it's easy to see where the 80 trees described in this book fit within the 60,000 strong worldwide assembly. Kaja Kajfez' illustrations enliven every page and enable the reader to move easily between each short piece of clearly legible text.
Here is a book to entice many children - natural history enthusiasts and those without much former knowledge or interest. They'll learn, for instance, that Australia's Idiot Fruit tree was around 120 million years ago and the Yellow Meranti is the tree gamers can grow in Minecraft. Readers will also get a sense of how important trees are to humans for utilitarian (e.g. canoes, food, raw materials) historical or spiritual reasons.
My reservations are these: the illustrations are rather too cartoony for my liking, in some cases, giving shape but not definition (as with the European Larch); the lack of keys on maps (some might puzzle over the brown splodge labelled 'Urals' or what 'Volga' refers to); ambiguity over the definition of coniferous/deciduous; and deforestation mentioned only very briefly and not specifically linked to atmospheric changes or soil erosion.
Perhaps these and the contribution of modern science to our growing understanding of trees might feature in future editions, but this one could will be an asset to Primary teachers at any level for Science, and a popular addition to the school library.
64 Pages / Reviewed by Jane Rew, school librarian
Suggested Reading Age 7+
Other titles