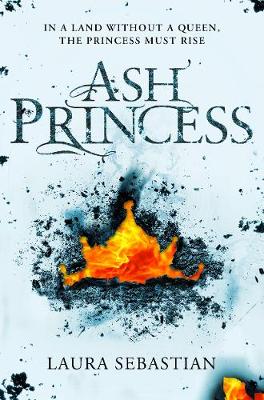 By Author / Illustrator
Laura Sebastian
Genre
Adventure
Age range(s)
11+
Publisher
Pan Macmillan
ISBN
9781509855209
Format
Paperback / softback
Published
14-06-2018
Synopsis
From author Laura Sebastian comes Ash Princess, a nail-biting YA fantasy debut full of daring and vengeance.

Theodosia was six when her country was invaded and her mother, the Queen of Flame and Fury, was murdered before her eyes. Ten years later, Theo has learned to survive under the relentless abuse of the Kaiser and his court as the ridiculed Ash Princess.

When the Kaiser forces her to execute her last hope of rescue, Theo can't ignore her feelings and memories any longer. She vows revenge, throwing herself into a plot to seduce and murder the Kaiser's warrior son with the help of a group of magically gifted and volatile rebels. But Theo doesn't expect to develop feelings for the Prinz.

Forced to make impossible choices and unable to trust even those who are on her side, Theo will have to decide how far she's willing to go to save her people and how much of herself she's willing to sacrifice to become Queen.

Continue the edge-of-your-seat fantasy series with Lady Smoke.
Reviews
Linda
This great debut novel is a Game of Thrones for YA readers ( sorry no dragons!). As an older reader, I have come across this theme many times before but Ash Princess really stands out and is well worth a read.
Theo, who is a very strong female lead character, watched her mother, The Queen, being murdered at the tender age of six. For the past 10 years the Kaiser has kept her alive but has subjected her to relentless abuse and humiliation which she has had to learn to survive. When she is then forced to kill her last hope of rescue, Theo vows to take revenge on her captures.
This first book in the series follows Theo as she executes her plan - with the help of some of her loyal subjects - to destroy the Kaiser and take back her rightful position as Queen of Astrea. Let me warn you, this is not a light-hearted story, and as you turn the pages you will come across the following themes; racism, abuse, graphic beatings, torture, murder and death. These are not written in great depth but are present and well crafted, so making a story that is engrossing and pacey. There is also a romance twisted into the plot, a love triangle; Theo is struggling with her feelings for a childhood friend, Blaise, but also the son of the Kaiser, Soren. I personally hope she chooses Soren, you will understand why when you read the book!
Okay, the book isn't groundbreaking but its 448 pages are really well written and crafted. The characters, the plot and its twists make it a compelling read that I would happily recommend to any 14+ readers of fantasy fiction. I wish we didn't have to wait until next year for Book 2, Lady Smoke.
448 pages / Reviewed by Linda Brown, school librarian.
Suggested Reading Age 14+
Other titles