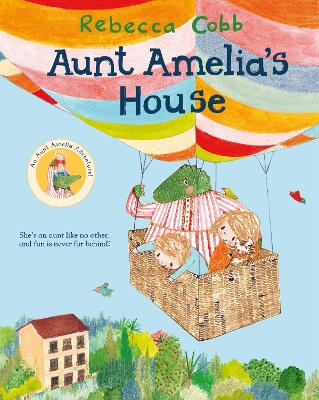 By Author / Illustrator
Rebecca Cobb
Genre
Picture Books
Age range(s)
3+
Publisher
Pan Macmillan
ISBN
9781447250548
Format
Paperback / softback
Published
13-05-2021
Synopsis
From the award-winning Rebecca Cobb, illustrator of The Paper Dolls and The Everywhere Bear, comes another lively tale about the very unusual babysitter, Aunt Amelia.  The children are so excited! They are going to stay at Aunt Amelia's House. They always have a brilliant time with her, and can't wait to see what she has in store. But when they arrive, there seems to be no time for games. Instead Aunt Amelia has a long list of chores to do. But from the gardening to the laundry, cleaning the windows to feeding the pets, Aunt Amelia has her own special way of doing things, and fun will not be in short supply!   A warm, witty, beautifully illustrated tale about an aunt like no other.
Reviews
Jemma
Aunt Amelia's House, an inviting book by Rebecca Cobb, is warm and humorous. Aunt Amelia is not like any other aunties and the children are super excited to go stay with her. However, upon arrival, she hands them a list of jobs to be done. Little do the children know that adventure awaits at every twist and turn as they work their way through the chores.  Readers are invited to imagine spectacular ways of doing every-day tasks; watering the garden from a hot air balloon, feeding the pets with a picnic tea party, whirling about the washing line to dry the clothes.
Celebrating special relationships our wee ones have with their aunties and other close relatives, this book is a delight to read. The pictures store more than initially meets the eye; they are packed with intriguing details that bring this story to life. As The Sunday Times so aptly put it: 'Cobb's illustrations capture the joy of childhood'.
Suggested Reading Age 3+
Other titles