Bad Magic (Skulduggery Pleasant)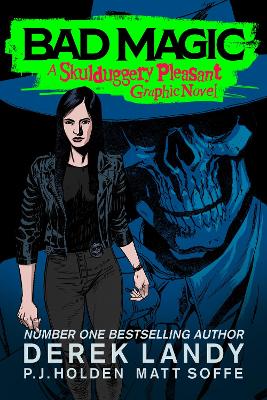 By Author / Illustrator
Derek Landy
Genre
Comics & Graphic Novels
Age range(s)
14+
Publisher
HarperCollins Publishers
ISBN
9780008585785
Format
Paperback / softback
Published
28-09-2023
Synopsis
Experience Skulduggery Pleasant as never before - in this fully original graphic novel brought vibrantly to life in full colour/   
A small town in the middle of Ireland, a string of unexplained deaths and a monster on the loose. Better call in the experts.....   When Skulduggery Pleasant and Valkyrie Cain drive into Termoncara, they discover a town with a dark past and a people haunted by their own secrets. There is a creature stalking the streets - a creature who delights in cruelty, who feeds off the little hatreds, who grows stronger with every drop of blood spilled.  Horror and mystery collide in an original graphic novel by Derek Landy, P. J. Holden, Matt Soffe, Rob Jones and Pye Parr.
'A real cracker. Fun, thrilling, smartly scripted and powerfully making a stand for diversity and inclusion in the face of intimidation and ignorance. Even if this is your first encounter with the worlds of Skulduggery Pleasant, it's one you will adore and never forget'  Win Wiacek, Now Read This!
See Book One: Skulduggery Pleasant
Reviews
Stephen
Skulduggery Pleasant is back in this new adventure of mystery, murder, mayhem and a little magic - all in graphic novel format for the first time. From the moment bare boned detective Skulduggery Pleasant and Valkyrie Cain drive into the small Irish town of Termoncara, they realise that people in the town are trying to hide something, and locals don't take kindly to strangers poking their noses in their business. They soon discover that in this town of unexplained murders, a monster is stalking people, stirring up hated, growing stronger with every drop of blood spilled. Yet the more Skulduggery and Valkyrie dig, the greater the danger to themselves becomes, and there may be more than one monster in this town to deal with....
What an enjoyable graphic novel Bad Magic is. Its frame-focusing illustrations bring to life Skulduggery and Valkyrie for the first time in a graphic novel which, combined with a pacey storyline, made this a joy to read and a real page-turner. The whole book has a dark and creepy gothic feel to it, adding to my enjoyment of book. I've only a fleeting acquaintance with the original Skulduggery Pleasant series but my lack of background didn't hinder my enjoyment of it, and I feel you can enjoy this graphic novel on its own with no real knowledge of the series. In fact it's a great introduction to the world of Skulduggery Pleasant; one I now want to acquaint myself better with!
While enjoying the character of Skulduggery with his dry and sharp humour, Valkyrie with her no nonsense independent approach to life and their unique approaches to flying I was really drawn to the character described by Skullduggery as Mr Friendly, the creature haunting and manipulating the people of the town. This creature is decidedly dark, dastardly and disturbing and the illustrations of it are some of the best in the book - a creature literally with bells on its fingers. Making its speech and thought bubbles black with white writing, the reverse of everyone else's, added to the foreboding feeling of this character. I rather enjoyed the illustrations of the other creatures too who form part of the narrative!
Underneath the great illustrations and action, I feel there is a quiet message about the impact of homophobia and racism on people, and how this can be manipulated by others to generate hate. It's subtle and could be a discussion point at home or in the classroom about acceptance and hate crime. As someone who doesn't venture into the world of Skulduggery Pleasant and graphic novels very often, this book proved to be an excellent diversion into both these worlds, and one I look forward to repeating! If you like your graphic novels dark, macabre and with a touch of magic, you will enjoy this. Recommended.
144 pages / Reviewed by Stephen Leitch, school librarian
Suggested Reading Age 11+
Ruth
Bad Magic (Skulduggery Pleasant) is an action-packed graphic fantasy set in Ireland, where the townsfolk are experiencing strange, supernatural events. At the centre is Jamie, who has become reclusive following the death of his best friend and whose dreams are full of the terrifying images of monsters. Determined to solve a dreadful murder in Termoncara, the crime-busting duo Skulduggery Pleasant and Valkyrie Cain arrive to discover a town full of secrets. The investigation uncovers entrenched prejudice in the community, culminating in a final battle between good and evil.
The illustrations in Bad Magic are vibrant and visceral. The horror and violence leaps off the pages and, along with the carefully crafted dialogue, enables the story to speed towards the inevitable and thrilling conclusion. The cover is bold and eye-catching. Valkyrie is depicted as a strong, dependable figure who dominates the cover (the shiny effect adding to the pop of the illustration). Skulduggery's image 'floats' behind the title graphic as well as his partner, other-worldly and malevolent.
Bad Magic offers Derek Landy fans an alternative format for his bestselling series, which I imagine will fly out of bookshops this Christmas. Bad Magic also offers school librarians a graphic novel which will enable those who struggle or are reluctant with reading to enjoy a fast-paced accessible book like their peers and will hopefully become a gateway horror book to the rest of the series, and many more fantasy books. NB The publishers have recommended this book as 15 years plus.
144 pages / Reviewed by Ruth Cornish, school librarian
Suggested Reading Age 14+