Be Resilient: How to Build a Strong Teenage Mind for Tough Times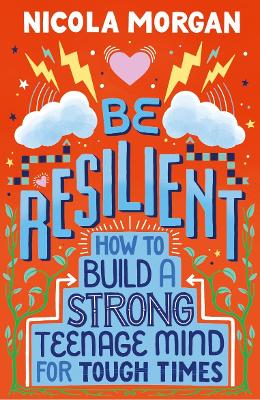 By Author / Illustrator
Nicola Morgan
Genre
Mental Health & Wellbeing
Age range(s)
11+
Publisher
Walker Books Ltd
ISBN
9781406399257
Format
Paperback / softback
Published
01-07-2021
Synopsis
The essential teenage guide to building resilience for challenging times, from award-winning well-being expert Nicola Morgan, author of the bestselling Blame My Brain and The Teenage Guide to Stress.
Some events in life will always be out of our control, whether it's a global crisis or a traumatic event at home - but Be Resilient shows that the power to cope is in our hands. Discover how to develop the skill of mental resilience in this fascinating guide from award-winning author and teenage brain expert Nicola Morgan. From building a support network to building optimism, find positive, practical advice for preparing for, coping with and bouncing back from the toughest of times. Authoritative and backed by the latest science, this is a reassuring companion for teenagers everywhere.
Reviews
Clair
Nicola Morgan has a Diploma in Youth Counselling, has written over 100 books and won many awards including the School Library Association's Outstanding Contribution to Information books. I already have several of her other books on our Self Help Shelf in the library, so was thrilled to receive a copy of Be Resilient to add to our collection.
Be Resilient: How to Build a Strong Teenage Mind for Tough Times is a very engaging book for teenagers. It is a book that will empower them to build a stronger mind that will enable them to persevere through more challenging times. Nicola Morgan is a straight talker who gives teens all of the information that they need to help them tackle whatever life throws at them. Be Resilient offers the practical tools with coping strategies to enable teenagers to deal with problems in a healthy way.
This book, like her other titles, is written in an engaging style with topic headings in bold and bullet points to help present the contents in a way that is easily accessible. She has included fictional characters who are struggling with various scenarios which some teens may identify with themselves. Be Resilient is full of tips for self-care and also advises when it is best to seek professional help. It details trusted adults that students can turn to for advice and provides a list of resources in the back of the book giving websites and help line numbers that are recommended to turn to for help.
It is a much needed book after lockdown where teenagers may have struggled with extended periods of isolation from their peer group. Nicola Morgan's book will help them to build a support network, boost their optimism and self-esteem. She has a positive voice and provides a beacon of hope. I would highly recommend this book – it is a must read!
192 pages / Ages 11+ / Reviewed by Clair Bossons, school librarian
Suggested Reading Age 11+
Other titles