Becoming Brave: A True Story of Love and Loss, Courage and Hope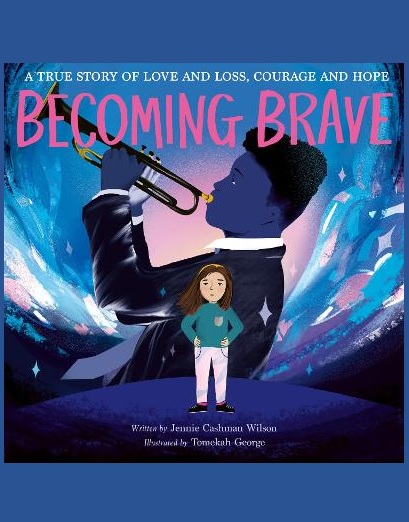 By Author / Illustrator
Tomekah George, Jennie Cashman-Wilson
Genre
Personal Growth
Age range(s)
5+
Publisher
Little Tiger Press Group
ISBN
9781838914646
Format
Hardback
Published
03-08-2023
Synopsis
If you want to try new things, you have to be brave. But you can't be brave without also being scared.
While Jennie grew up wanting to please other people, Abram followed his heart from an early age. The two couldn't have been more different, and yet when they met Jennie fell in love with Abram's fearlessness.  But when life takes a turn for the worst and Abram is no longer by Jennie's side, will she find her own courage?
This poignant and heart-felt picture book explores themes of love, grief and believing in yourself in a gentle and uplifting way. With a contemporary setting and characters which many readers will see themselves in, this book is great for inspiring little ones and starting important conversations.  With vibrant artwork and biographical text.
Find out more in this Q&A with Jennie Cashman-Wilson 
Reviews
Sue
A chance meeting results in love at first sight for Jennie and Abram. A worrier, Jennie falls in love with Abram's fearlessness, the fact that he was never afraid to follow his heart. But when the worst happens and Jennie finds herself alone, will she be able to find her own courage?
Becoming Brave is a gentle, heart-warming story about love, grief and finding the courage to lively boldly. Poignant text is supported by moving illustrations which capture the highs and lows of Jennie and Abram's relationship.  Jennie's success in finding her courage when the worst had happened, in creating a passion from her tragedy, is a powerful message of hope, perfect for starting conversations and offering comfort in the face of adversity.
By taking positive action, Jennie is able to move forwards with her life, never forgetting Abram, but helping others through the constant celebration of his life and love of music. The story recognises that it is possible to be happy and sad at the same time - a truly up-lifting story.
40 pages / Reviewed by Sue Wilsher, teacher
Suggested Reading Age 5+
Sharon
Becoming Brave arrived from Little Tiger publishers and after seeing the tag-line, I thought I had better leave this book until I was less tired (and emotional) at the end of term. I am glad I did! This book resonated deeply with me, as an early-life widow, and this beautifully crafted story is one of the bravest stories I have read. Bravo to Jennie and Tomekah.
This book will help everyone who reads it to understand that life really does go on after losing someone you love, they are always with you, in that special place inside. I wish this book every success and have that box of tissues ready. Recommended for all primary children-with the expectation that it'll be the adults who need to read it most!
Picture book / Reviewed by Sharon Porter, teacher
Suggested Reading Age 5+
Other titles