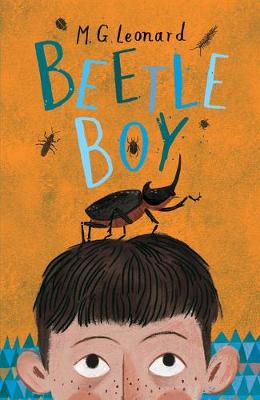 By Author / Illustrator
M.G. Leonard
Genre
Adventure
Age range(s)
9+
Publisher
Chicken House Ltd
ISBN
9781910002704
Format
Paperback / softback
Published
03-03-2016
Synopsis
The first book in the bestselling BATTLE OF THE BEETLES series - perfect for fans of Roald Dahl.Winner of the Branford Boase AwardShortlisted for the Waterstones Children's Book PrizeShortlisted for the Books Are My Bag Children's Book Award'Truly great storytelling.' MICHAEL MORPURGODarkus can't believe his eyes when a huge insect drops out of the trouser leg of his horrible new neighbour. It's a giant beetle - and it seems to want to communicate. But how can a boy be friends with a beetle? And what does a beetle have to do with the disappearance of his dad and the arrival of Lucretia Cutter, with her taste for creepy jewellery?Check out the other books in the series, BEETLE QUEEN and BATTLE OF THE BEETLES!
Reviews
Kerra
Beetleboy is the first of a trilogy of books written by debut author M G Leonard who says: 'Ever since I was little I've been frightened of creepy-crawlies. Then I found out that beetles can be pretty, brightly coloured, even gold. Others are as strong as the Incredible Hulk. Some shoot acid out of their butts, and all beetles have wings! My fear had stopped me from seeing how fantastic beetles were, and so I decided to write an adventure with the beetles as the good guys'.
In the story, we follow Darkus Cuttle who lives alone with his dad, Dr Bartholomew Cuttle (an Entymologist - Professor of beetles!) in London. For several years, they have been grieving the loss of Darkus' mum, both retreating into themselves and just when things start returning to normal Dr Cuttle disappears. The police are at a loss to understand how he could have disappeared from a locked room, inside the Natural History Museum where he worked.
After several miserable weeks spent in a foster home, Darkus's Uncle Max returns from working abroad and promises that Darkus can live with him until his father is found. Darkus starts a new school and soon becomes friends with Bertolt, a geek, and Virginia, a tough girl when they rescue him from bullies. He also encounters a beetle who befriends him and seems to understand everything he says.
With the help of his new friends and his uncle, Darkus starts to uncover what might have happened to his dad.
Brilliantly written with colourful characters, both evil and good, this book will deliver mystery, adventure, several twists, a few explosions and a love of beetles to any reader.
Suggested Reading Age 9+
Other titles