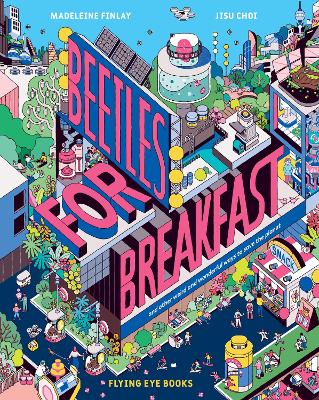 By Author / Illustrator
Madeleine Finlay, Jisu Choi
Genre
Information books
Age range(s)
7+
Publisher
Flying Eye Books
ISBN
9781838740221
Format
Hardback
Published
01-09-2021
Synopsis
We all know the effects that climate change is having on our planet - but what about the strange, and creative ways that scientists are working to find practical and imaginative answers to these big problems?Following a day in the life of a child, we see how new green inventions could fit into everyday life, from brushing your teeth with biodegradable algae, to eating beetle burgers for lunch and coming home to do your homework with a pen with ink made from exhaust fumes. With a mixture of infographic-style artwork and topical, and funny facts from scientist Madeleine Finlay, children will love seeing familiar scenes with a futuristic twist. Open up to learn all about the cool, exciting and sometimes quite strange inventions that could be part of normal life in the future.
Reviews
Bryony
Beetles for Breakfast and other weird and wonderful ways to save the planet is a beautiful hardback from Flying Eye books written by Madeline Finlay and illustrated by Josh Choi. The book explores the scientific advancements that are in progress to try and lessen the impact of climate change. Taking the reader through difference settings that are familiar such as school, the park, breakfast and the beach, each section begins with a double page image showing a 'typical' setting. These innovations are then explored in more depth on the following pages.
The sheer amount of research that has been undertaken to write this text is staggering. Each new innovation is explained clearly and using a good level of knowledge. The author does not shy away from scientific and technical language; instead referring readers to the glossary at the back of the text. Further details are included in each section taking the knowledge to a new level. For example in the bathroom section, the reader explores nine innovations that could be used in an environmentally friendly bathroom such as moss mats, bamboo brushes and bio beads. The section then explores the power needed in our daily lives and how poo can be used for this. The last page of the section is all about water and how it can be used to create power for many different uses.
Choi's illustrations are stunning. The book is visually powerful and it took several glances and each page before I felt I'd really explored each one. Each page is deserving of detailed exploration and discussion. This is a book to be read together and shared. There is a section on what children can do at home to be more environmentally friendly. Most of this list is very manageable and many children will be inspired reading this. The glossary is informative and useful. A beautiful book that will be poured over and enjoyed by children and adults alike.
88 pages / Reviewed by Bryony Davies
Suggested Reading Age 7+
Other titles