BeYOUtiful: Radiate confidence, celebrate difference and express yourself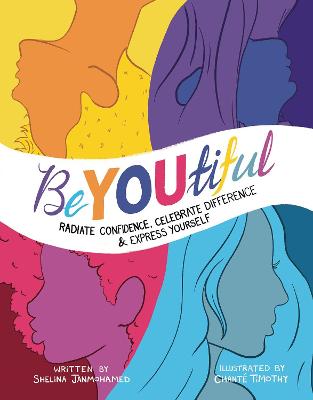 By Author / Illustrator
Shelina Janmohamed, illus Chante Timothy
Genre
Mental Health & Wellbeing
Age range(s)
9+
Publisher
Welbeck Publishing Group
ISBN
9781789562958
Format
Hardback
Published
12-05-2022
Synopsis
This is NOT a book about what to wear, how to put on make-up or pose for a photo. This is a book about what it means to be beautiful. It will teach you how to decide FOR YOURSELF what beauty really is, and give you the superpower to say, 'I'm beautiful!' - and mean it!
Funny, inspirational and from the heart, BeYOUtiful is full of practical tips on how to feel positive about the way you look. It breaks down why images you might see around you aren't always what they seem and gives advice on how to navigate social media. You can also discover how ideas of beauty vary around the world from culture to culture and through history. Explore how people's opinions and ideas are shaped by others and read real-life stories of amazing women.
The energetic and joyful illustrations showcase a huge diversity of women and girls, talking about their own experiences. Everyone will find something or someone they can relate to. Are you ready to start a girl-powered beauty revolution?
Find out more from author Shelina Janmohamed             Activities for BeYOUtiful
Reviews
Elen
A fabulous title for a book that really does deliver what it says it will, encouraging children and young people to 'Radiate confidence, celebrate difference and express yourself'.
Since the author works for a major marketing company, she knows all too well how the images we see around us are manipulated into impossible standards of beauty; and how those images impact on girls and young women in how they see themselves. This book helps address the issues this raises, providing clear and useful advice on how to see our individuality and to enjoy diversity in how we all look; each one of us is beautiful, we just need to learn how to see it.
BeYOUtiful is not a traditional 'beauty' book - there are no tips for make up or making the best of our looks - but there are sections on the history of beauty (showing us how different societies saw beauty differently); the variety of body 'types' there are; how to look after and value the skin you're in; and an appreciation of all different kinds of hair and hair styles.
The illustrations by Chante Timothy and the magazine-style layout support the chatty tone of the book; it is a very comfortable, positive read and easy to pick and choose different sections to read. There are also several 'fact boxes' about real people overcoming challenges or achieving against the odds, to remind us that it's not how you look but what you achieve that marks you out.
In BeYOUtiful, the reader isn't being given suggestions for how to change their looks to make the most of themselves; they are being shown that the looks they already have, and their confidence in themselves, are what makes them beautiful. In our world of screens and social media where children and young people are bombarded with images, this is a valuable reminder to love the body you're in and to see beauty in the people around you.
128 pages / Reviewed by Elen Green
Suggested Reading Age 9+
Other titles