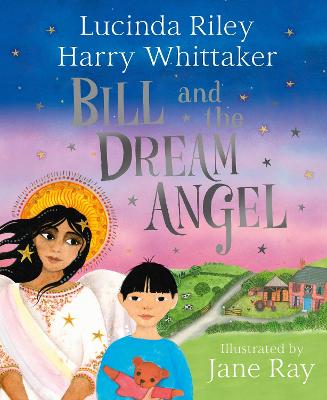 By Author / Illustrator
Lucinda Riley, Harry Whittaker
Genre
Family & Home
Age range(s)
5+
Publisher
Pan Macmillan
ISBN
9781529051193
Format
Hardback
Published
12-05-2022
Synopsis
Bill and the Dream Angel, created by bestselling author Lucinda Riley and her son Harry Whittaker, is a reassuring story about moving house and overcoming fears, part of the enchanting Guardian Angels series. Because somewhere, an angel is listening . . .

Bill and his family have just moved house. But even though Bill's room is much bigger than before, and he has a garden to play in, Bill misses his old, familiar home. This new house makes mysterious noises, especially at night. But luckily, Bill has someone watching over him. Will Destiny, the Dream Angel, be able to show Bill that sometimes, the things we don't understand at first turn out to be the most magical discoveries of all?

A beautiful gift-edition hardback, complete with an angel ribbon marker.
Reviews
Maria
"If you are ever worried that something bad is going to happen, you can ask a Guardian Angel for help." The opening pages to this gorgeous story introduce us to Bill and Destiny. Bill and the Dream Angel tells the story of Bill and his family moving house and explores themes of change, anxiety and belief.
Bill and his family move house to the countryside. They begin to unpack Bill's toys to make his room more comfortable and familiar. However, on the first night Bill hears tapping at the window. He gently opens the curtains and is met with a giant pair of shining eyes! Bill is scared by this encounter and no matter what his kind parents do to reassure him that "there's no such thing as monsters," he continues to be scared and worried about his new house. We then meet Destiny, the Dream Angel who supports those having bad dreams and stops them. We see her visiting the local farmer who once owned Bill's house. The following day Jeremy, the farmer, visits Bill's family to show them a special family inhabiting their loft. This explains the noises at night and the huge, staring eyes at the window. Bill meets a family of owls who come to nest in the loft and is reassured that this is what has been keeping him awake at night.
This book is a beautiful story with the most amazing double spread illustrations of the countryside, Destiny and the family of owls. This books is a perfect story to support children moving house or children having bad dreams. Definitely a reassuring story to support understanding that things that can make us anxious can turn out to be the most magical discovery. A gentle story with the most beautiful illustrations and Angel ribbon marker. What's not to love about this book? Thank you to Lucinda, Harry and Jane!
Picture book / Reviewed by Maria, teacher
Suggested Reading Age 5+
Other titles