Billy and the Giant Adventure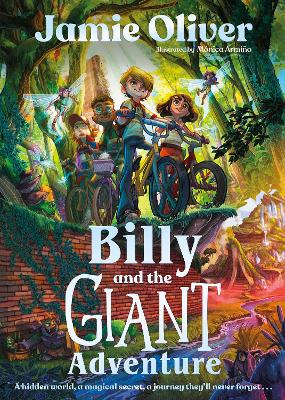 By Author / Illustrator
Jamie Oliver, Monica Armino
Genre
Magical Realism
Age range(s)
7+
Publisher
Penguin Random House Children's UK
ISBN
9780241596111
Format
Hardback
Published
13-04-2023
Synopsis
One pinch of adventure, a dash of friendship, a sprinkle of mystery and a HUGE spoonful of magic . . . Jamie Oliver, bestselling author and internationally renowned chef, delivers the perfect recipe for a page-turning children's fiction debut!

Billy and his friends know that Waterfall Woods is out of bounds; strange things are rumoured to have happened there and no one in their village has ventured past its walls for decades...  But when they discover a secret way in, Billy and his best friends, Anna, Jimmy and Andy, can't resist the temptation to explore! Only to quickly discover that the woods are brimming with magic and inhabited by all sorts of unusual creatures, including a whole community of sprites who need the children's help!

With magical battles, a long-lost mythical city, fantastical flying machines, epic feasts and one GIANT rescue, get ready for an adventure you'll never forget!
Reviews
Lisa
Billy and his friends have been warned about Waterfall Woods, it is an area that must stay away from as unexplained things have happened there. Nobody has ventured into the woods for many years and villagers are too afraid to enter. Until one day, Billy and his friends discover a gate which leads them there. They enter another world which is bursting with magic! Billy and his friends encounter a community of sprites who need their help. And so Billy and his friends embark on an adventure of a lifetime encountering creatures and characters they could have never imagined.
This is a story for children aged 7+ which is filled with fun, friendship and adventure. Jamie Oliver clearly has a very active imagination which is brought to life though the unusual creatures that Billy encounters. There are also plenty of food references which you might expect from a chef and it becomes a theme of the book. It reads well as a read aloud story which I imagine was Jamie's intention and perhaps this was the inspiration behind the story.
The book as it is published in a child friendly font, making it accessible to children aged 7+. This could also make it a good choice for those older children who struggle to read but would like higher interest books.
When choosing a book to use at school I would look for a book with more opportunities for discussion, but I can see children enjoying this story - it's easy to follow and fun - and that parents will enjoy sharing it with them. 
352 pages / Reviewed by Lisa Watkins, teacher
Suggested Reading Age 7+
Other titles