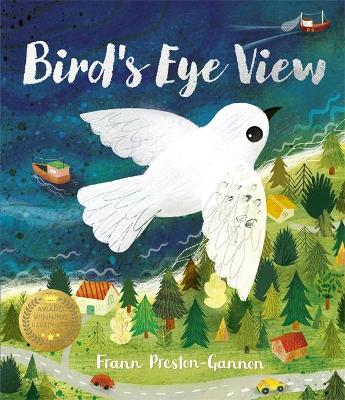 By Author / Illustrator
Frann Preston-Gannon, Frann Preston-Gannon
Genre
Animals
Age range(s)
3+
Publisher
Templar Publishing
ISBN
9781787416840
Format
Paperback / softback
Published
05-08-2021
Synopsis
A warm, lyrical exploration of the many sides of humanity from award-winning author and illustrator Frann Preston-Gannon.One day Little Bird leaves the safety of her nest and goes to explore the world. Her mama warns her to watch out for people, but what are they, exactly?On her journey, Little Bird will see many people who are all very different. She sees cruelty and greed, but also love and kindness.
Reviews
Wendy
Bird's Eye View is the story of a little bird who literally 'flies the nest' and goes out into the world to find out more about humans. She observes many people from her vantage point high above them and sees kindness, happiness, anger, sadness, tiredness and many other human conditions. However, when she finds herself in trouble she is rescued and nursed back to health by a kindly family. After recovery she flies back to her mum's nest and tells her about everyone she's seen but states she will remember the kind humans most of all.
This is a nice book that allows children to zoom out and look at different people's circumstances around the world and how this makes them feel. It also sends a good message about caring for wildlife, which is something every child can easily do. The author has won awards for her illustrations and the collage-type pictures are bright, bold and engaging. The text is clear and simple and could be read independently by Year One and Two children. A lovely book for prompting discussion about compassion.
40 pages / Reviewed by Wendy Kelly
Suggested Reading Age 5+
Other titles