Bob vs the Selfie Zombies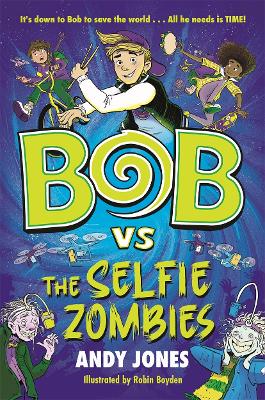 By Author / Illustrator
Andy Jones
Genre
Funny Stories
Age range(s)
7+
Publisher
Bonnier Books Ltd
ISBN
9781800783485
Format
Paperback / softback
Published
02-02-2023
Synopsis
The hilarious and action-packed story of Bob, accidental time traveller, perfect for fans of David Solomons, David Baddiel and Greg James & Chris Smith.  "An instant hit. Bold, clever and funny, with writing that absolutely sizzles. My kids and I are now confirmed fans of Andy Jones, who weaves a smart time-hopping tale around his instantly likeable characters." P.G. Bell, author of The Train to Impossible Places.
It's down to Bob to save the world.... all he needs is time!  Bob and his best friend Malcolm are determined to win the school talent competition with their band, The Tentacles of Time. For one thing, there's £50 worth of vouchers to be won. For another, the future of the world depends on it.
Bob doesn't know why he can time travel. He does know that it always happens at the worst possible moments. Like when he's in the bath. Awkward! But when Bob comes face to face with his future self in the middle of a disastrous alternative reality, he has to do something!  In this terrifying version of the future, an evil genius has created a smile-operated selfie camera that turns people into zombies. The world as Bob knows it has completely collapsed. You can't even get a decent pizza! It's up to Bob to fix the present, change the course of time and save the whole world!  A hair-raising race into the future and back again... and again.
Reviews
Donna
Robert Trebor, known as Bob, is 12 years old and has recently discovered that he can time travel. One moment he was wallowing in hot bubbly water, and the next minute there were two of him, the bath was cool, and they were both shocked to see each other.  Robert has travelled into the future...
On the day before the school talent contest, when he travels to his much older future self, he realises that his whole future, and the future of civilisation, lies in what happens at the contest... If Robert can't stop himself from breaking his arm, which means that he can't play the drums in his band, then he can't stop Eno from winning the competition with his selfie hat invention and he can't stop the world from being overrun with Selfie Zombies that hound and terrorise his future self, and the world! But whatever Bob tries to do to change things in his present has consequences for his future which are not always for the good. Can he make the changes that he needs to save the world?
Andy Jones, author of Bob vs The Selfie Zombies, has created a uniquely funny story that's filled with questions about how our actions always have a consequence. He combines a mix of heart-wrenching reality with madcap moments of imagination. An entertaining read that will not only bring amusement but will also provoke searching questions and discussions about life, choices and the consequences of our actions.  
Recommended age: 8+.  Curriculum links to death, bereavement, friendship, belief, trust, hope and consequences. 
320 pages / Reviewed by Donna Burkert, teacher
Suggested Reading Age 7+
Other titles