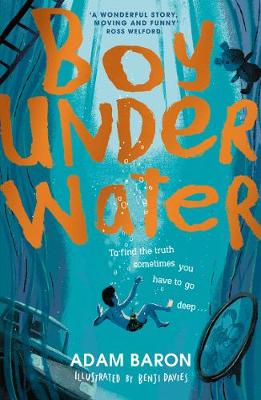 By Author / Illustrator
Adam Baron
Genre
Adventure
Age range(s)
9+
Publisher
HarperCollins Publishers
ISBN
9780008267018
Format
Paperback / softback
Published
01-06-2018
Synopsis
SELECTED AS WATERSTONES BOOK OF THE MONTH
SHORTLISTED FOR THE CARNEGIE AWARD
A heart-breaking, heart-warming novel for everyone of 10 and older - this book will probably make you cry, and will definitely make you laugh.
Cymbeline Igloo (yes, really!) has NEVER been swimming
Not ever. Not once.
But how hard can it be? He's Googled front crawl and he's found his dad's old pair of trunks. He's totally ready.
What he's not ready for is the accident at the pool - or how it leads his mum to a sudden breakdown.
Now, with the help of friends old and new, Cymbeline must solve the mystery of why his mum never took him near water - and it will turn his whole life upside down...
'A wonderful story, moving and funny' - Ross Welford
Reviews
Ateisha

- Age 12
This book was funny, exciting and every page something dramatic happened. It a book that could make you cry but also laugh at the same time. It also teaches everyone something. I would recommend this to someone who likes to laugh and enjoys easy read books .
Suggested Reading Age 11+
Erin

- Age 12
What I liked most about this book is that Cymbeline Igloo always has a way of making you smile, he has a way of making you almost forget everything and just being engulfed within the life of a young boy , who has to deal with a lot a such a young age. This book is definitely a comedy, but there are also a lot of things about this book that is truthfull I feel like this book is so realistic and I know that young kids who may be going through a tough time at the moment could definitely use Cymbeline Igloo in their life! He has a way of almost making you forget about all your problems and focusing on his, this may sound a little selfish but if really does get your mind off things! There are a lot of children who have or are going through what Cymbeline went through and this book I feel would just give them courage, the courage to not be afraid to question things . To not be afraid to accept things the way they are! Something Ive definitely learned from this book is that in order to find the truth, you may have to go deep...
Suggested Reading Age 11+
Ellie
An interesting, funny book for everyone of 10 or older. A book about a boy named Cymbeline Igloo (yes that's his real name) has never been swimming before like EVER. He desperately tries to persuade his mum to take him but she tells him disgusting things about the pools that could put anyone off the pool for life. His school make his dreams come true but not what he was expecting. He Googles how to swim, he borrows his dad's trunks but he doesn't know what he is in for when he can't swim. Buy this book because it is very entertaining and very enjoyable to read.
Suggested Reading Age 9+
Olivia

- Age 12
I like the way this book is set out because it's a bit of a cliff hanger at the start because the boy never found out why he never had a chance to go swimming but his dad died when he was very young and his mum never told him what caused that either so at the start I thought the reason that he was never allowed to go swimming was because maybe something happened when he was very young to do with his dad and drowning so that s what his mum doesn t want to happen to Cymbeline.
Suggested Reading Age 11+
Adam

- Age 9
I have just reacently got boy under water and I'm already enjoying it. The blurb hooks you in and makes you wonder why he has never went swimming. It is funny and also mysterious. Cym is a strong character who has a sense of humour. I would rate this book for the age of 9+
Suggested Reading Age 9+
Luke

- Age 12
I like this book because it is intriguing and a mystery to solve. It is a sad and funny book to read. He has never been swimming and wants to find out! Try help Cymbeline find out the this mystery of his unknown dad! It is perfect for anyone over the age of 9. It is a perfect book to just sit down and read!
Suggested Reading Age 11+
Milly

- Age 11
I like that it is funny because he talked about something then goes back into his past story which is a bit different to the many books I have read but I still really like it.
Suggested Reading Age 11+
Joshua
In my opinion I am enjoying this book , Cymbeline Igloo (Yes really) the main character/boy has never once been swimming in his life. He doesn't understand why his mum has never took him swimming but is trying to find out. His dad passed away when he was young and has a funny feeling that it has something to do with his dad. There is humour and funny moments in the book as well as interesting times. I reccomend this book for people looking to read something good.
Suggested Reading Age 9+
Jacob

- Age 12
I liked this book a lot! Mainly because it has a lot of mystery. It has 2 main plots with 3 side mysteries alongside. These are always solved one way or another. I liked the comedy in Boy Underwater, it makes subtle jokes and breaks the fourth-wall in some points of the book to take a short break from the story. Speaking of which, finally, I want to talk about the story, which presents itself really well, the many fonts are used to show what Cymbeline is feeling or trying to express and the subtle twists.
Suggested Reading Age 11+
Josh

- Age 12
This is one of the books that was set for me by my English teacher, and I am so glad! I adored this book because it is both hilarious and moving, and reading this book made me realise how good this combination can be. I loved the way the author has set out this book in a childish but creative way. Also the characters are very unique and I really like the character Cymbeline as he is funny but shows another side in his concern for his family. In my previous reading I have not seen a character portrayed in this way. I enjoyed how the author explains the past in the events of the present to the reader. I would recommend this book to you if you like a balance between humour and emotion.
Suggested Reading Age 11+
Amelia

- Age 11
I am reading 'Boy Underwater', I am half way through the book and I am up to the point where Cymbeline Igloo is asked why his mother has never took him swimming. I like how the author has not told us exactly why his hasn't been swimming, instead his mother made excuses, however Cymberine now knows that the excuses are not true and he should never have believed her. This book is very good for children at the age of 9 and above because it is very funny and it intrigues you to carry on reading and finding out what happens next. I think the main message of this boook is always to be truthful if you can't do something as you will never succeed.
Suggested Reading Age 9+
Isabel

- Age 11
I like this book because it is a hilarious read and the boy keeps reminding us that him and his best friend Lance are joint third best footballers in year 3. The main character is called Cymbeline Igloo and his life gets worse and worse through the book, making us ask ourselves many questions and the only way to answer these is to read the whole book.
Suggested Reading Age 9+
Other titles