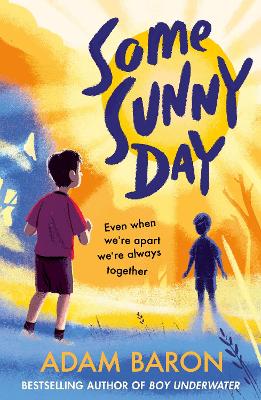 By Author / Illustrator
Adam Baron
Genre
Family & Home
Age range(s)
9+
Publisher
HarperCollins Publishers
ISBN
9780008422370
Format
Paperback / softback
Published
07-07-2022
Synopsis
A funny and incredibly moving new novel of our times by one of the most talented children's book authors working today, perfect for fans of Wonder, Frank Cottrell-Boyce or The Boy at the Back of the Class.
Cymbeline Igloo is BORED. Bored of home learning, bored of lockdown, bored of not being able to DO anything. And to make things even worse, his mum accidentally gave away his favourite football shirt.  But then Mrs Stebbings, the beloved school cook, is taken into hospital, and suddenly coronavirus seems much closer to home. When Cym starts a project all about Mrs Stebbings' childhood in World War II, he can't know that it's the beginning of something incredible and even dangerous.   Exploring the place where her street once stood, he finds a tent, a strange girl wearing HIS SHIRT, and a mystery that will change absolutely everything. Because the past is more present than Cymbeline can possibly know - and the most amazing thing is how much one small person can do RIGHT NOW...
Some Sunny Day is a story of hope, kindness and the history we all make every day, no matter who we are.
Find out more from author Adam Baron
Reviews
Jacqueline
Cymbeline Igloo, the boy with the best name in children's literature, is back, in this his fourth outing. Some Sunny Day takes place during the pandemic, in the early days of the first lockdown. Cymbeline has online lessons and is missing his friends. His mother is completely neurotic about avoiding the virus and does things like getting up at 5 o'clock in the morning to avoid the other people in the park. The home learning is all about the Home Front and Cym suggests a project around their popular dinner lady, Mrs Stebbings, who is seriously ill with Coronavirus.
This is the first book I've read about the pandemic and the lockdowns, and it captured the time extremely well. Cymbeline's voice is so strong and believable and for a book about the pandemic it is remarkably humorous. The scene in the supermarket made me laugh out loud, even though it was not funny shopping at the time! This is a book about kindness and friendship, it also covers the concepts of refugees and grief.
For such a funny story it is not an easy read, particularly if children have been badly affected by the pandemic or lost loved ones. Emotions may still be quite raw and I know I found it brought back very strong memories. The cheerful cover by Benji Davis and the layout all add to the overall feel of the story. I've read all of the previous books and I think this is the best. Whilst part of a series, it is easily readable as a stand-alone story and is one that will form part of the history of 2020.
320 Pages / Reviewed by Jacqueline, teacher
Suggested Reading Age 9+
Sue
Cymbeline Igloo is not enjoying lockdown. He hates not being allowed to play football or see his friends and he is struggling with on-line learning. As he struggles to cope with boredom, his mum seems determined to clean the whole house from top to bottom. Desperate to avoid her touching things in his room, he agrees that she can only go through his clothes.
However, this leads to disaster as she accidentally gives away his favourite football shirt - the Charlton signed-by-all-the-players one. Then Mrs Stebbings, beloved school cook and fellow Charlton fan, is taken to hospital and the threat of Covid becomes very real. When researching where she used to live as part of a school project, Cym uncovers something from the past which threatens the present.
This is the fourth book about Cymbeline Igloo - and my favourite, not least because of Adam Baron's dedication!  Cym's experiences of lockdown will resonate with many children as he struggles with on-line learning and starts to realise that there are things about school that he misses! Readers will also empathise with not being able to see friends and missing those things we take for granted in everyday life, such as ketchup...
The story is full of the gentle humour readers of these stories have become used to, but Adam Baron does not shy away from more difficult themes. Cym's mum has had problems with her mental health in the past and the story recognises that lockdown is hard for her too. The children are shocked when Mrs Stebbings is taken to hospital and there are some very poignant moments, reflecting the real impact of the virus on adults and children alike.
As ever with a Cymbeline story, there are things I cannot comment on without ruining the story for any about to read it - and I do urge you to read it! These stories are perfect for those looking for something a little different with a very engaging and appealing main character.
320 Pages / Reviewed by Sue, teacher
Suggested Reading Age 9+
Andrew
It was brilliant to find myself back with the wonderfully named Cymbeline Igloo, and to read a book set during the lockdowns of the past few years. The story, created by Adam Baron, shows us how it might have seemed to live through those dark days as a school-aged child; the loneliness, the anxiety and the wondering. Likewise, it shows how grown-ups were affected in different ways, too.
The main part of Some Sunny Day focuses on when one of Cymbeline's favourite people falls ill with Covid-19 and how the school community rallies to help them. Along the way, Cymbeline finds out that although lockdown may seem hard, there are always people who have had it worse!
This is a superb read, like the previous novels, and will keep you guessing until the end.
320 pages / Reviewed by Andrew, teacher
Suggested Reading Age 11+
Other titles