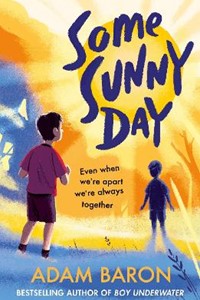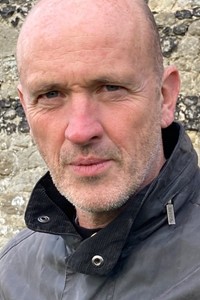 About Author
Adam Baron, author of Boy Underwater, has been an actor, comedian, journalist and press officer at Channel 4 television. He also writes for children and adults, and now runs the widely respected MA in Creative Writing at Kingston University London.
Adam lives in Greenwich, South London, with his wife and three young children. He wrote Boy Underwater (his first novel aimed at younger readers) because they told him to.
Read a Chapter from Some Sunny Day
Interview
Some Sunny Day  (Harpercollins Children's Books)
July 2022
In Some Sunny Day, Adam Baron's latest novel featuring Cymbeline Igloo who we first met in Boy Underwater, we return to the time of lockdown and to the impact that the pandemic had on the lives of children, their families and their local communities.  Woven through the story are the everyday boredoms of the time as well as the successes and tragedies experienced by families and communities at the time.
We asked author Adam Baron to tell us more about the book, including how he drew on his own family's experiences of the Covid lockdowns for the story, and to give a short reading from Some Sunny Day.
Q&A with Adam Baron
1.   Can you tell us about your Cymbeline Igloo books, and what draws you back to writing about Cymbeline?
I've written four books about Cymbeline now. I only intended to write one, but every time I enter the world of Cymbeline and his friends, it seems to expand in front of me and there is more to see. Cymbeline is so interested in life and wants everything to be fair. This allows me to write about so many things that I'm interested in. The first book, Boy Underwater, was about past trauma shaping a child's present. You Won't Believe this allowed me to write about refuges (my grandparents were refugees). In This Wonderful Thing I wrote about hope within a family that is going through tough times. I think that it's Cymbeline's voice that draws me back. It feels so real to me.

2.   What is your latest book, Some Sunny Day, about and can you tell us why you chose this title?
Some Sunny Day is about how we used hope, humour and our friends to get through lockdown. When Cymbeline loses his favourite football shirt (signed by his hero) he's distraught, until he realises that he might lose something else: one of his favourite people. Some Sunny Day is about the power and value of friendship, even when you can't see your friends. It's a funny, warm, and hopefully gripping tale of coming together during a period when that was nearly impossible. The title is from the wartime song, We'll Meet Again. It speaks of hope in our darkest hour.

3.   Why did you decide to write about lockdown and the pandemic for children? 
I wanted to reflect the lives that children were going through. When a bookseller told me that she hadn't seen any books set during lockdown, I knew that I had to write one. Lockdown was a very odd experience for so many that it had to be reflected in fiction. I knew that I could do this if I made the book really warm and funny. I hope I have.

4.   Did you also feel it was important to reflect on how schools, teachers and local communities supported children during lockdown?
This was exactly what I wanted to do. My own children were taught so brilliantly during this time that I wanted to write a book as a tribute to that. I wanted to look at the positive things from lockdown, such as community cohesion and a sense that we all have a duty to help each other. I realised that the schools my children went to were amazing communities in themselves.

5.   Many writers struggled during lockdown. How did you find it, and how did you keep yourselves going?
With this book! I did find it hard, but I knew that I was also lucky to be able to spend more time with my children. Lockdown really showed me how important family and community are. I also got out on my bike as much as I could to give myself some head space. Cycling through a deserted London at 7am was very spooky.

6.   How much of Cymbeline's experiences are drawn from your own experience of lockdown?
I started during lockdown and so many of my own experiences are in there. The zoom calls, the frustration at being kept in, the early morning outings. My wife even broke our frying pan during Clap For Carers. The handle came flying off. I also had friends who lost people to Covid, and one who found the fear of Covid very hard to deal with.

7.   Did you find positives from children's experiences during lockdown?
Some Sunny Day is all about the positives really. Children may have missed school but what they really found, I hope, is how important their friends and family are. I hope that this generation of children grow up with a heightened sense that success in life comes through connections with other people.

8.   There is a death from Covid in the book; why did you feel it was important to include that?
That happened as the narrative developed. The story told me that had to happen, so I wrote it. Afterwards I wondered about taking it out, but a lot of people died of Covid. I had to reflect that, or the book would not have been true. It would not have been honest to those who died, or their relatives. My editor felt the same. I hope that I have represented things with compassion and sensitivity.

9.   Other than a great story, what would you like your readers to take from Some Sunny Day?
Laughter and tears - a real engagement with the book, which reflects the way we engage with life. I really hope that readers go away with an understanding of how wonderful the people we take for granted are.

10.   We should probably also mention football.... Cymbeline is an obsessive fan of Charlton. What about you?
Well, my daughter played for Charlton Girls Academy last season, so yes. They are my nearest team and I go to see them quite a bit (as well as Millwall, but don't tell anyone…).

11.   Will there be more stories to come about Cymbeline? What are you writing currently?
That's a SECRET! I have written one non-Cymbeline book, which is out next year. I'm currently working on a few things but I hope that Cymbeline does appear again some day. I like the way he looks at things.

12.   What are you most enjoying in a post-lockdown world?
People. I really love going out to the theatre and to see music. I love meeting up with my friends and welcoming my children's friends into our home again. I love the way that my children are slowly coming back to normality and I really hope we don't have to go back to the way things were. It's also quite nice not to worry about whether there is any loo roll in the local shop…
Author's Titles