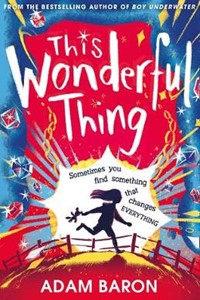 About Author
Adam Baron, author of Boy Underwater, has been an actor, comedian, journalist and press officer at Channel 4 television. He also writes for children and adults, and now runs the widely respected MA in Creative Writing at Kingston University London.
Adam lives in Greenwich, South London, with his wife and three young children. He wrote Boy Underwater (his first novel aimed at younger readers) because they told him to.
Interview
January 2021
Cymbeline, who we first met in Boy Underwater (HarperCollins Children's Books), is back in a new mystery adventure for ages 8-12 years.
At a time when Cymbeline is negotiating a possible new step family and the loss of his best friend, his house is burgled, setting off a chain of events that will take Cymbeline back to his past.
1. What is your new book, This Wonderful Thing, about? 
This Wonderful Thing sees Cymbeline faced with a host of problems. His Dad was supposed to take him away for the weekend but didn't show up, and his Mum is moving her fiancé Stephan and his two daughters into their house. So, as usual, we join Cymbeline in a time of chaos! Everything he knows seems to be vanishing, including his best friend Veronique. Meanwhile, hundreds of miles away, a young girl called Jessica has found something in a river that might be very familiar to readers of Boy Underwater… It changes her life forever.
2. Why did you want to return to the world of Cymbeline?
I have no choice when it comes to Cymbeline. If he tells me to write about him, I obey. It's so much easier. What I love about him is that he always surprises me, which means that, in each book I write, I get to know him a bit better. In This Wonderful Thing, Cymbeline has to do some growing up - and he doesn't like it one bit.
3. There are a number of new characters in This Wonderful Thing; do you get to know them before you start to write them?  
Characters appear to me. If I have to 'make them up' then they're not real and I don't bother. I believe in my characters more than some people I actually know…
I love Jessica because she's having a hard time in life but is very brave, and I adore Mabel. Mabel is in Reception and is a chaotic force of nature. She's got a great heart and loves Cymbeline, and has no idea that she causes him in a lot of stress. She uses all his Star Wars Lego to make unicorns with and forces him to sing her really embarrassing bedtime songs... She's a lot of fun - but not for Cymbeline. I also really enjoyed creating the baddy in this book but I'm not telling you who that is.
4. Each of your novels weaves a mystery for Cymbeline to solve. Do you plot these quite carefully before you start to write?
If only I could work it all out in advance but I don't. I set out into a novel like you might set out on a long walk in the mountains - without a map. It's an adventure for me as much as it is for the reader. All I do is get Cymbeline, Veronique and Lance to investigate, and hope that they find the answers. So far, I've been lucky and I hope I stay lucky. Who wants to go on a walk when they know exactly where it will take them?
5. The settings in this novel are important for how they mystery plays out. How well do you know the places you describe in your books and are they based on real places?
Place is so important in fiction. Everywhere is based on a real place. Cymbeline lives very close to me, and goes to the school my children go to. Well, a version of it. As an author, I'm able to change things and move places around if I need to. The fictional map doesn't quite sit perfectly over the real one, but it's pretty close.
6. Why did you decide to include references to the pandemic in the book?
Well, it's happening isn't it? I wanted to give readers the sense of a time - which will definitely come - when the pandemic will be over and we can go back to a more manageable normality. The pandemic is so huge in our lives right now but it won't define most people's lives. We will mourn the people we have lost, but live in a future beyond it.
7. What are you most looking forward to doing once lockdowns are over?
So many things! I'm looking forward to coming into schools to meet my readers face to face. I'm looking forward to being in the west of Ireland, where my wife's family come from, and being able to shake hands and hug people. I'm looking forward to cooking meals for friends and sharing meals with me. Mostly, I think, I'm looking forward to a world where everything doesn't have to be planned. I love chance, and chaos.
8. What do you enjoy about your live events?
My focus is to really engage with students, either online or in person, and to create stories together. I like to show students how stories work, and what their possibilities are.
I've done loads in person and a lot online, and each one is vibrant and fun, but most of all unique. What I really hope is that students have so much fun that the things they learn will stick in their minds for a long time.
The only problem with online events, for me, is that there are no kind teachers to make me a cup of tea. I have to do it myself.
Please get in touch with Authors Aloud if you would like me to come into your school. There will be fun, a lot of learning, and more than a lot of shouting.
9. How does your writing day go - and what is most likely to interrupt it?
I often sit in cafes and libraries to write, but due to the pandemic I am working exclusively from my office at home. What interrupts me are emails and washing and cooking and  children needing taking places and phone calls and deliveries and… But they are all an excuse. When characters like Cymbeline and his friends grab hold of me, there is always time to write. There has to be. Nothing is as thrilling as seeing characters and events take shape on the page in front of me.
10. What are you currently writing - and will there be another Cymbeline novel?
I am writing another Cymbeline book and he is really making me laugh. I can't say anything about it because it's bad luck - unless I'm finished.
Meanwhile I have another book coming out and it's completely different. Cymbeline isn't in it at all and, believe me, he is SO cross. He says he bets its rubbish but I'm very excited about it. I'm still deciding what the title will be but it's about a boy called Oscar who wakes up one morning to find that his whole world has changed. And I mean, REALLY changed. Bet you can't guess how...
11. Are there any other children's authors who stand out for you?
There are so many. Here are just a few. Eva Ibbotson and Judith Kerr are classic and wonderful. Ross Welford is great as is Kieran Larwood. Abi Elphinstone's books are really magical, as are Sophie Andersons. I'm half way through The House Without Windows by Barbara Newhall Follett, and it's marvellous.
Books I loved when I was young include The Cay, by Theodore Taylor, and Vikings Dawn by Henry Treece. They are worth searching out.
Author's Titles