British Museum: Mummies Unwrapped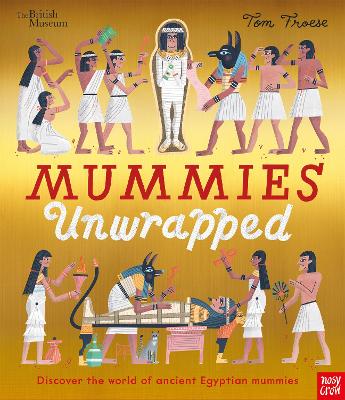 By Author / Illustrator
Tom Froese
Genre
Non Fiction
Age range(s)
7+
Publisher
Nosy Crow Ltd
ISBN
9781788009010
Format
Hardback
Published
05-08-2021
Synopsis
Unwrap the mysteries of ancient Egyptian mummies in this fascinating gift book from the British Museum What is a mummy? How exactly were they made? And is there really such a thing as a mummy's curse? Find out the answers to these questions and many more, in this gruesome guide to the mummification process. Filled with grisly detail, you'll uncover secrets of the embalmers, tales of the tomb robbers and even what happened when pets were mummified! Meet some famous mummies from around the world, from Tutankhamun to the 'unlucky mummy', and find out what happened when archaeologists discovered mummies thousands of years after they were buried . . . With a glorious gold foil cover and quirky colour illustrations on every page, children aged 7+ will enjoy learning lots more about mummies!
Reviews
Nicola
Mummies Unwrapped is a brilliant addition to any library. It is informative, descriptive and, more to the point, thoroughly enjoyable. This books focuses solely on mummies and as such is full to the brim with information, going into precise detail in both a scientific and historical nature. It talks about everything from what a mummy is, how they are made, to what happened at their funerals and beyond.
This book is engaging in every way, it is beautiful to look at with a stunning cover, eye-catching illustrations that have a real sense of quirky humour and these really support the text. The text itself is split up into sections on each double page spread, meaning that although there is an enormous wealth of information on each page, you don't feel overwhelmed at any point.
The thing that I loved most about the book, though, is that it doesn't patronise children at all. I have seen books about mummies sometimes concentrate on the gory aspect rather than the historical focus and this book simply doesn't. It is presented as a historical information text with loads of interesting facts added, going above and beyond to provide the historical importance and significance of mummies and their era. This book succeeds in championing them both.
I will be using this to support planning during our year 3 and 4 unit on Egyptians and will be recommending to other schools for their libraries!
32 pages / Ages 7-11 years / Reviewed by Nicola Mansfield Niemi, teacher
Suggested Reading Age 7+
Other titles