Build It!: 25 creative STEM projects for budding engineers (metric ed.)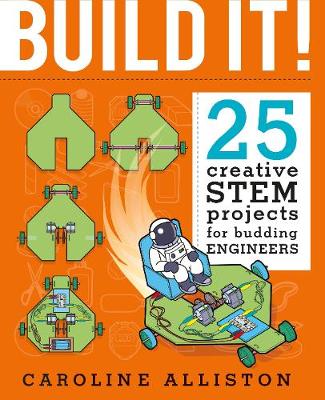 By Author / Illustrator
Caroline B. Alliston
Genre
Adventure
Age range(s)
7+
Publisher
QED Publishing
ISBN
9781784938482
Format
Paperback / softback
Published
19-10-2017
Synopsis
UK metric edition. This collection of 25 fun, achievable STEM projects is the perfect way to encourage budding engineers and scientists and to show them how science applies in the real world.

Using easy-to-source objects and following illustrated step-by-step instructions, design and build working models that move, fly, tick or light up! Develop your design, creative thinking and problem solving skills to make zip wires, vibrating brush monsters, computer controlled fairground rides and much more. Take on challenges such as building a lolly stick bridge and testing it to destruction or making a 10-second marble run.
Reviews
Marie
We are a home educating family and we have being using Caroline's books for the last three years at STEM home-ed groups. This book is clear and colourful and has some updated projects from the previous books and also some new ideas such as making and programming a set of traffic lights. For children who like to learn through play this book is wonderful. 96 pages / Ages 6+ / Reviewed by Marie Aldridge
Suggested Reading Age 7+
Wendy
This 120 page book has 25 ingenious projects and challenges to test and develop design, creativity and engineering skills. The projects are clearly laid out in colour with a nice mix of illustrations and photographs alongside the step-by-step instructions, and use cheap, everyday and recycled household objects where possible. The projects are broad ranging and easily extendable and as such I would say they are suitable for anyone from six to 16yrs, but in fact I know many adults who would also love them, and younger children who would enjoy using the complete models. I've been using Caroline's designs with STEM clubs for over six years now, and this book offers a brilliant and comprehensive selection of her projects with easy to follow instructions. I really can't recommend them enough to help bridge the gap between theory taught in schools and practical application. These models, whether built in a group, home or classroom setting, will open up possibilities for children (and parents and teachers for that matter) that seemed out of reach before. For those that have some of Caroline's earlier books, I would really recommend this as well. There are some repeat projects but often with improvements, and a number of new projects that lead on nicely from those earlier models. This book also provides much clearer instructions meaning that children can easily follow the instructions themselves. In summary I think this book is a must have in today's classrooms, libraries and homes. 120 pages / Ages 6-16 years / Reviewed by Wendy Lomas, teacher.
Suggested Reading Age 7+
Tim
Build It! combines easy to understand instructions, colourful cartoon illustrations and engaging STEM projects. Each projects provides a snapshot of the science and engineering behind the project. Enough ideas to keep your child, class or STEM club busy for a good while! 120 pages / Ages 7+ / Reviewed by Tim Caird.
Suggested Reading Age 7+
Bruce
A thoughtful, detailed and beautifully illustrated treasure trove of a book containing a wide range of progressive STEM activities for children from 5 to 85. Built It's layout, easy to follow instructions and appropriate scientific detail, lends itself to both the teacher and student who wants to discover and explore practical STEM projects. The activities included allow the user to not just build the models, but also investigate through working scientifically how changing parts might alter the way the model functions. Each activity provides links into some part of the National Curriculum in a fun and easy to follow way and it should be in every KS1 to KS3 teachers library. The Brush Monsters (p26 -31) give circuits whole new twist and Lolly Stick Bridge (p36-39) revives an old favourite with new ideas to stretch budding engineers. The inclusion of control systems, in the form of Crumble and coding challenges, gives this edition the edge over other STEM activities books. The blend of good illustrations, easy to follow instructions, good science and the use of everyday materials makes this book a real winner. As a STEM Presenter with Wonder Workshops, I've had the chance to show Build It to more than 50 Primary school teachers and some head teachers; without exception, they all wanted a copy for their classroom and personal library. This is also a perfect book for home schooling parents and grandparents who want to engage children in a plethora of fun STEM activities at home. Together they can discover new and established concepts in STEM through these engaging and fun projects. Almost all these activities can easily be done at home. If you are looking a beautifully illustrated, progressive, easy to use STEM Activities Book, look no longer. You have found it with Build It by Caroline Alliston. 120 pages / Ages 7-10 years / Reviewed by Bruce Robinson
Suggested Reading Age 7+
Other titles