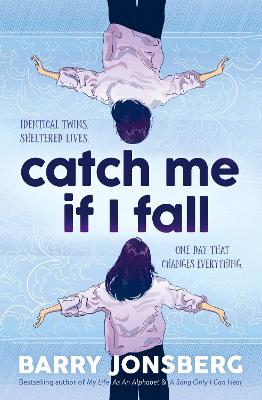 By Author / Illustrator
Barry Jonsberg
Genre
Friends and family
Age range(s)
11+
Publisher
Murdoch Books
ISBN
9781911679097
Format
Paperback / softback
Published
05-08-2021
Synopsis
'We've been worried about Aiden too, Ash,' said Mum. 'He's always been such a ... predictable child. You're not the only one to have noticed the changes.'

Ash and Aiden Delatour are identical twins, living a privileged lifestyle with loving parents. In a world that has fallen apart at the seams, they want for nothing. All they have to do is be there for each other, no matter what.

But after Aiden suffers a terrible injury, he isn't the same brother Ash always relied on. Something has changed, and it will lead to a discovery that will turn their whole world upside down.

A brilliant and timely middle-grade novel from the bestselling author of My Life As An Alphabet and A Song Only I Can Hear.
Reviews
Ruth
Set in Australia following a global disaster, Catch Me If I Fall is the story of twins living a privileged life in a safe community. The story unfolds as they discover the contrasting lives others are forced to live. Their previous egocentricity is challenged and their relationship with each other and their parents is viewed through a new lens. Ash and Aiden, the main protagonists, whilst identical in appearance, become increasingly separate. There are hints as to why this may be as the plot deepens culminating in a surprise twist at the end.
In three words I would describe this excellent novel as topical, thought-provoking and tense. A timely story which I would recommend for secondary school students across Key Stages 3 and a great choice for a school book club.
272 pages / Reviewed by Ruth Cornish
Suggested Reading Age 11+
Other titles