Courage Out Loud: 25 Poems of Power: Volume 3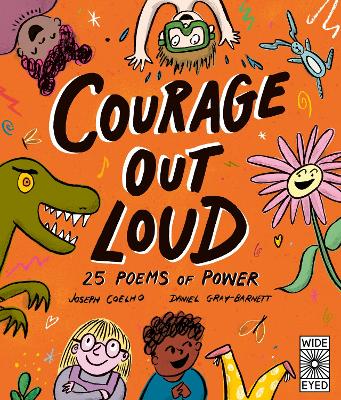 By Author / Illustrator
Joseph Coelho, Daniel Gray-Barnett
Genre
Poetry
Age range(s)
7+
Publisher
Wide Eyed Editions
ISBN
9780711279193
Format
Hardback
Published
23-03-2023
Synopsis
From the fantastic duo behind Poems Aloud and Smile Out Loud comes another compendium of 25 original confidence-building poems to read out loud which will show children that their voice has FANTASTIC power.

From multi-award winning poet and Waterstones Children's Laureate Joseph Coelho comes 25 more brilliant, sparkling and truly original poems for children, specially written to help build confidence, develop speaking skills and help foster self-belief.  The collection contains mantras to be true to yourself, to help you feel brave, project happiness, conjure a smile, make you laugh or cheer others up. Some are odes, some can be said as personal mantras or just poems that instil confidence and help children realise the power of their voices.  Reading these poems aloud will teach children the power of a poem, encouraging them to explore the magic of language and foster a love of verse.

This book follows on from Poems Aloud and Smile Out Loud, the hugely succesful books from Joseph Coehlo,illustrated in beautifully vivid colour by Daniel Gray-Barnett. These books have inspired thousands of young readers at home and in classrooms to speak up and love the power of their own voice.
Joseph Coelho introduces his Poems Aloud series
Reviews
Sue
Using a wide range of poetic forms and structures, Courage Out Loud is a wonderful collection of poems which explores many ways of being brave and facing fears. The book not only shares expressions of courage from Joseph, but actively encourages the reader to create their own, reminding them of the power of poetry to communicate their feelings and offering advice and guidance for both performing and writing.
Each poem is prefaced by a little comment from Joseph, offering some context or information about the poetic form. There are many poems here which could be used with classes as well as individual children. 'Have a Little Cry' is a lovely piece which reminds the reader how a little cry can make us feel better as there is 'courage in every tear'. Other poems focus on particular occasions when courage is called for - diving into a pool, going on a rollercoaster or speaking out in front of an audience.
The whole collection is accompanied by lively, colourful illustrations which perfectly capture the mood of each poem.
40 pages / Reviewed by Sue Wilsher, teacher
Suggested Reading Age 5+
Lizi
Written by the Children's Laureate for 2022-2024, Courage Out Loud is a collection of 25 poems that are all about bravery and courage in different ways. Each poem has a short blurb explaining it, the type of poem it is or suggesting a way the reader could respond to the poem. There are lots of different types of poems, from limericks to sestinas and free verse.
It's a wonderful book for teaching poetry in Literacy to junior school - the variety of types of poems and the explanations are a great teaching tool. It's definitely one for older children, the poems are quite wordy. The illustrations are fun and help to convey the meanings of each poem. There is a lot of information about emotions and handling them, so some possible PSHE links too.
40 pages / Reviewed by Lizi Backhouse, teacher
Suggested Reading Age 7+
Other titles