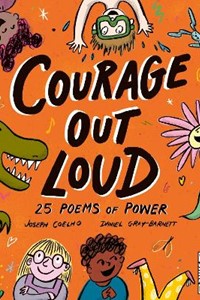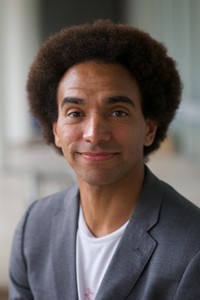 About Author
Joseph Coelho is a performance poet, children's author, and the Waterstones Children's Laureate for 2022-2024.  He grew up in a tower block in London and started writing poetry at secondary school. After studying archaeology at university, his jobs ranged from being a gym instructor to a salesman. Then he discovered performance poetry, and he began to run creative writing workshops in schools and to write plays for theatres. His debut poetry collection, Werewolf Club Rules (Frances Lincoln), won the CLPE Poetry Award 2015. Joseph has also written plays for the Polka Theatre, Soho Theatre and Unicorn Theatre, and he continues to perform with performance poetry organisation Apples and Snakes. 
Interview
Courage Out Loud  (Wide Eyed)
March 2023
We asked Joseph Coelho to tell us more about his role as Children's Laureate and his new performance poetry collection, Courage Out Loud, which forms part of the Poems Aloud series, illustrated by Daniel Gray-Barnett and published by Wide Eyed. 
You can watch Joseph introduce the original book in the Poems Aloud series. He also talks about being Children's Laureate, his new poetry projects for schools and homes, and how his Poems Aloud books can help to encourage children themselves as poets.
Q&A with Joseph Coelho
1.   How are you enjoying being Children's Laureate, and what have been your biggest achievements in the role so far?
I love being Children's Laureate, I'm not yet a year in but already the role has allowed me so many opportunities to meet new people and to realise projects that have long been bubbling away in my mind such as making the Poetry Prompts a reality. The Poetry Prompts are a series of videos that go live every Monday morning on The Booktrust website. Each is under ten minutes long and gently encourages young people to write a poem in a fun and interesting way. So far we have recorded 30 poetry prompts available for free online with a lot more to come.
I am also completing my library marathon, something that I started before becoming laureate. The library marathon was a self-set challenge to join a library in every library authority in the UK. Before lockdown hit, I had managed to join around 140 libraries but now, as laureate, I get to join the remaining 70, performing as I go and using the light of the laureateship to illuminate these essential spaces.

2.   What do you think of the recent research by CLPE / Macmillan, suggesting that there is a lack of poetry books in classrooms and that it's hard for teachers to stay up to date with poetry?
This doesn't surprise me, I have heard many times from teachers that they would like more support with teaching poetry in the classroom. But it is an exciting time because it feels like there are now more resources than ever before and more poetry books being published by more publishers than has been the case in recent years. The time is ripe for poetry to have it's heyday in schools - and I'm here for it.

3.   How can poetry books like your Poems Aloud books (Poems Aloud, Smile Out Loud, Courage Out Loud) help to change that?
The idea behind these books has always been to help teachers, students and parents to access poetry in non-threatening, fun and simple ways. Each poem in the books comes with a gentle suggestion for a way to perform or write a poem, helping to demystify the magic behind poetry, helping students to see themselves as poets and performers of poems.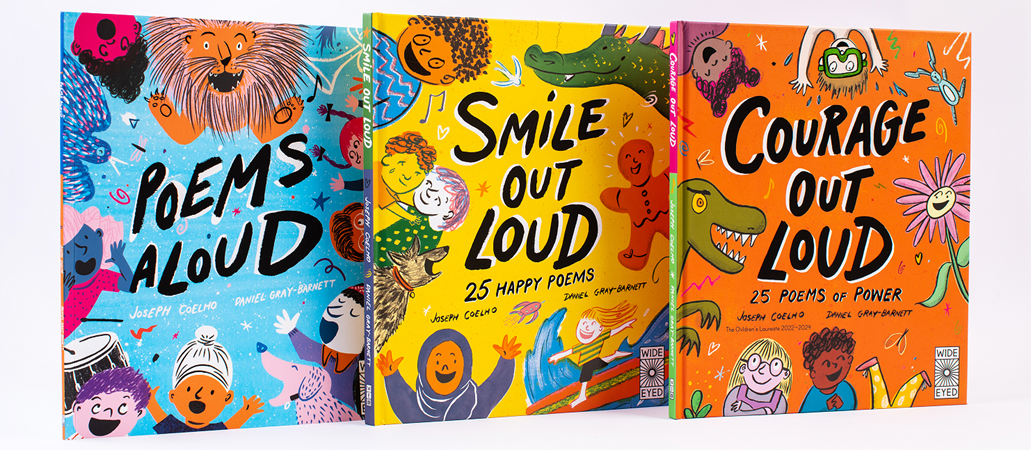 4.   What inspired the original book, Poems Aloud?
Years of work in schools inspiring children to write poetry in fun and active ways. I wanted to find a way to distil what I had learnt works, into a book that anyone could pick up.

5.   Why did you want to go on and create Smile Out Loud and your new book, Courage Out Loud?
After Poems Aloud I was very aware that I had only scratched the surface of what could be possible with a poetry book that can help make poetry creation fun. I wanted to explore other themes and genres. Smile Out Loud came about from a desire to get kids smiling and laughing through poetry. The other thing I think poetry is great at is helping us in times of need and so Courage Out Loud was born. A book that uses poetry to help us feel brave.

6.   Can you tell us a bit more about Courage Out Loud - and how it can help children to understand being brave in unexpected ways?
I wanted to move away from bravery being simply a show of strength, I wanted to explore the idea that to be brave we have to be vulnerable, we have to be willing to be scared and frightened and so there are poems about tears and crying and being able to say 'no'. I hoped to connect children to a true sense of courage that goes beyond the super hero ideal of a show of strength.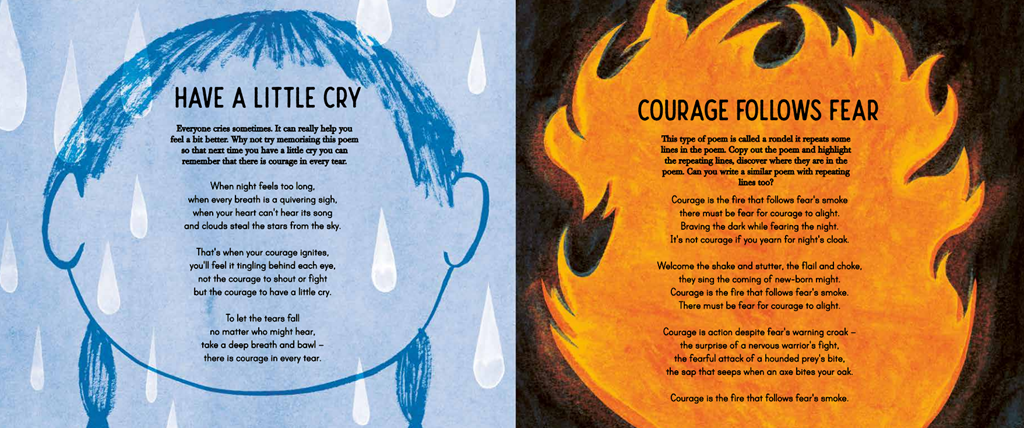 7.   Do you also want to help inspire children to write their own poems about courage? How do you suggest they do so?
There are suggestions for writing exercises in Courage Out Loud that accompany some of the poems in the book, but readers can be inspired to write a poem based on any of the poems, not just the ones highlighted. I would suggest that readers engage with the poems and find ones that speak to them. If a poem speaks to you I'm willing to bet you have a poem of your own that may tackle the same subject as that poem.

8.   Why did you want these books to be illustrated, and what do you think of Daniel Gray-Barnett's illustrations?
No book is written in isolation and I have been very lucky to work on these books with editor Lucy Brownridge. When Lucy suggested that the poems be illustrated by Daniel Gray-Barnett I was immediately won over. His illustration style is so alive and vibrant, his illustrations felt like the perfect medium to bring the poems alive.

9.   How would you like to see teachers using these books in class?
I would like to see students given the choice to find a poem or poems that speak to them and to be allowed to engage with them as they see fit; that might mean performing a chosen poem, directing their classmates or writing their own. I strongly feel that choice is the key.

10.   Do you have more 'Out Loud' poetry collections planned?
Yes - I am very excited about the one I'm working on at the moment - it's a bit of a detour from anything we've done so far but it is proving to be a lot of fun to write.
Author's Titles