Smile Out Loud: 25 Happy Poems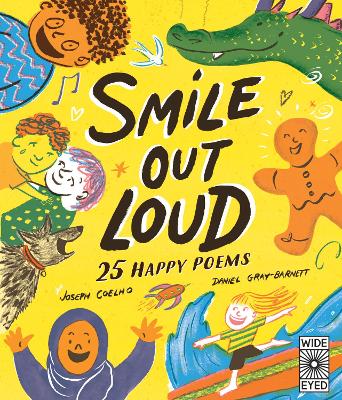 By Author / Illustrator
Joseph Coelho, illus Daniel Gray-Barnett
Genre
Poetry
Age range(s)
7+
Publisher
Wide Eyed Editions
ISBN
9780711271791
Format
Hardback
Published
10-05-2022
Synopsis
From the fantastic duo behind Poems Aloud comes another compendium of poetry to read out loud and make you smile!  Twenty five original poems from award winning poet Joseph Coelho designed to be read aloud to project confidence, conjure happiness, make you laugh or cheer others up. Some are odes, some can be said as personal mantras or just poems full of words that you can't help but smile when you hear them.

This is a book for any child who wants to build confidence reading aloud, or wants a way to channel their speech and drama confidence. It is a book to foster a love of words and the power that comes with the spoken word. It will show children how speaking a poem aloud has a certain magic, almost like reading a spell.  Poems can be read aloud to an audience, muttered quietly to oneself or whispered in the ear of someone who needs to hear some cheerful words.
See also:  Poems Aloud;  Courage Out Loud
Reviews
Sue
A smile is infectious - try it and see! So begins the introduction for this fabulous collection which encourages its readers to perform the poems out loud and spread a little happiness. Each poem is preceded by a note offering suggestions for how it might be performed and plenty of ideas for creating your own.
In Smile Out Loud, Joseph Coelho has written 25 poems, each designed to foster a love of words and poetry and to develop the joy of performing. Each one is bursting with humour and fun, offering a wide range of styles. Some are perfect for performing alone, whilst others work best with friends; some need lots of energy and volume whilst others are calming.
In this collection, children are introduced to a range of poetic structures and word play techniques. 'A Tip of the Slongue' uses spoonerisms. Having explained how these work, Joseph Coelho challenges children to see if they can think of any more and then turn these into their own poem. 'I Woke Up with a Smile' is a rondel and 'You Could, You Would. Awake a Dinosaur' is a villanelle.
I love the way children are introduced to, and encouraged to use, different forms of poetry and rich vocabulary. Smile Out Loud is a wonderful addition to every classroom as the poems and techniques / hints / tips they offer could easily be adapted for use with any age group. Daniel Gray-Barnett's lively illustrations are the perfect accompaniment to these poems. Vibrant and energetic, they are colourful, fun and full of humour. This book makes a brilliant companion to Poems Aloud, also by this team.
40 pages / Reviewed by Sue Wilsher, teacher
Suggested Reading Age 7+
Other titles