Crongton Knights: Winner of the Guardian Children's Fiction Prize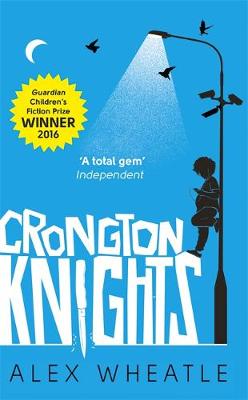 By Author / Illustrator
Alex Wheatle
Genre
Adventure
Age range(s)
11+
Publisher
Little, Brown Book Group
ISBN
9780349002323
Format
Paperback / softback
Published
03-03-2016
Synopsis
Winner of the Guardian Children Fiction's Prize 2016
Shortlisted for the YA Book Prize 2017

Living on the South Crongton council estate has its worries - and life for McKay has been even tougher since his mum died.

His dad has been working all hours to keep the bailiffs from their door.

His brother is always out riding the streets at night, tempting trouble.

And now, having strayed off his turf on a 'heroic' (if misguided) mission to help out a girl, McKay finds himself facing a friend's crazy ex-boyfriend, some power-tripping hood-rats and a notoriously violent gangster with a vendetta which hits too close to home.

Poor McKay. He never asked for trouble . . . But during one madcap night of adventure and danger, he will find out who his true friends are and what it means to stick with your family.

Crongton Knights is a very funny, very moving story that shows that although life is testing, the lessons learned the hard way are the ones you'll never forget.
Reviews
Carol
McKay and his friends are 14 year olds growing up and finding their way in South Crongton, a tough housing estate, where gangs are at war with each other and it is almost impossible not to get involved. However, get by they do, and it is their friendship, and the strength of their families, that really shines through. The book is full of humour, the characters are likeable and funny, and the reader is looking out for them and hoping they make it through. The story hinges on a quest the main characters make, into 'enemy territory', to get back a mobile that Venetia's ex-boyfriend has stolen, which has nude pictures of her. The fact that her family are 'Team God' adds to the importance of what they are doing. The threat of danger is convincing - the friends may be on a quest with echoes of an up-dated Famous Five (and I do mean that as a compliment!) but if and when things go wrong, we know it may not turn out well. Several characters have relatives who have died or been injured in violence, so the story is very much rooted in reality. McKay's brother is also in hiding, having got involved with the gangs, and the whole family is suffering after the death of their Mum. The complex emotions, and the tension between father and older son, is portrayed convincingly, but with a light touch. The families of several characters are shown, some in more depth than others, and they all, in spite of varying difficulties, form a solid background that gives the youngsters strength. In fact, the boy with possibly the most difficult family background, is 'Boy from the Hills', who comes from a wealthier background, but whose mother is always out working. One of the remarkable features of the book is the language in which the characters speak, which is both poetic and humorous. MacKay's bedroom is his 'dungeon', doors are 'drawbridges', people 'roll' rather than walk, houses are 'castles'. And a lot of the humour that lightens the story comes from the language. One character's father is described as 'His arms were big enough to carry to carry Jesus's cross and Muhammad's mountain; Raptors could have nested in his beard.' I did wonder about the authenticity of the spoken language in the book - there's nothing worse than getting this not quite right! - but in an article in the Guardian (17.11.16) Alex Wheatle describes how he creates words rather than trying to mimic the language of youngsters. So the effect is more an impression - and it certainly seems to work. A worthy winner of the Guardian Children's Fiction Prize.
Suggested Reading Age 11+
Other titles