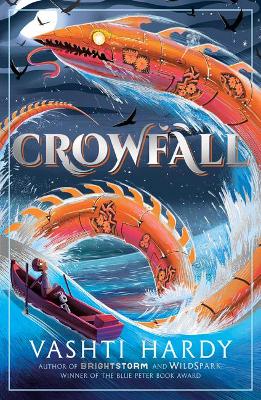 By Author / Illustrator
Vashti Hardy
Genre
Adventure
Age range(s)
9+
Publisher
Scholastic
ISBN
9781407197272
Format
Paperback / softback
Published
01-07-2021
Synopsis
A rip-roaring, island-hopping adventure - and unforgettable ecological fable - from the award-winning author of Wildspark and Brightstorm.
Ironhold is an orderly place where "industry brings prosperity", and where nature is pushed aside for progress. But when Orin Crowfall, a lowly servant boy, learns that the island itself is in grave danger, that knowledge makes him a target of powerful forces. He narrowly escapes on a small boat, but then faces a fight for survival with his robot friend, Cody, in the stormy ocean, pursued by a terrifying sea monster. Can they make it to safety, somewhere beyond the horizon? And will Orin find a way back to save his family before everything is destroyed? To succeed, Orin will need to dig deep for courage, trust in new friends, and, ultimately, have faith in himself.
This is fantasy adventure at its finest: riotous adventure, memorable characters, incredible world building, and a powerful, thought-provoking message about ecological balance. Perfect for fans of books by Peter Bunzl, Abi Elphinstone, and Alex Bell.
Reviews
Kelly
Vashti Hardy has a way with words that draws the reader in from beginning to end. Hardy's latest novel: Crowfall is an epic adventure that delves into the complicated relationship between nature and humans, illuminating the need for harmony and a reciprocal approach.
Orin lives on an island called Ironhold, an island brimming with futuristic metal constructions: robots called fixies design and support the engineers and residents under the controlled reign of Commander Forge. Forge seemingly has a special bond with the heartbeat the island, the Eard, but things aren't quite as they seem. Orin has an innate connection with nature and a divine curiosity that soon uncovers dangerous and dark secrets that put his, his family and the residents of Ironhol in peril. Orin must uncover the truth and overcome the greed that seeps through Commander Forge's veins if there is any hope of saving Ironhold and its residents from crumbling into the sea.
This is a battle of survival, a tale of finding inner strength, friendship and overthrowing evil powers in order to restore balance, where humans and nature co-habit harmoniously. Great support to teaching climate change, filled with challenging vocabulary, fierce, strong-minded characters and futuristic themes, that strike a contrast against natures beauty. A great class reader for Year 5 or 6!
320 pages / Reviewed by Kelly Buxton
Suggested Reading Age 9+
Other titles