Crystal Run: The Crystal Run: Book 1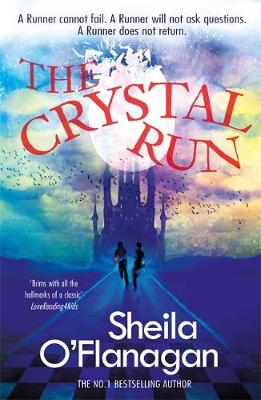 By Author / Illustrator
Sheila O'Flanagan
Genre
Fantasy
Age range(s)
9+
Publisher
Hachette Children's Group
ISBN
9781444927085
Format
Paperback / softback
Published
04-05-2017
Synopsis
The gripping children's debut from the Sunday Times and Irish Times No. 1 bestselling author is a page-turning fantasy quest novel for fans of Cornelia Funke, Susan Cooper and Philip Pullman.
'I am proud to die for Carcassia,' said Kaia. 'All Runners have a special place in our world, in our history.'
Kaia Kukura has been awarded the great honour of protecting her country, and is determined to bring wealth and glory to her family. She must travel through enemy territory to replace the precious Kerala crystals that power Carcassia's protective shield. But no Runner is permitted to return after their mission. When Kaia has
fulfilled her Runner's oath, she knows her life must end.

But sometimes it takes an outsider, someone from a different world, to question the truth.

Fourteen-year-old Joe can barely outrun the school bullies who torment him daily. Cornered yet again, he tries to escape - and finds himself falling through a portal into another world. There, he meets fierce and strong Kaia. Together they discover that not everyone in Carcassia can be trusted - and that there are terrible
lies at the heart of Kaia's beloved home.
Can their combined strength and skill help Kaia save her country and herself? And will Joe ever find a way back to his own world?
Reviews
Emily

- Age 11
A tribe called the Carcassians are trying to protect themselves from their enemy, the Kanabians. I absolutely love this book: it's amazing!!!! It was different from what I thought it would be like, but still amazing! When Joe gets transported to another world, he gets paired with Kaia on her run and realises how much is at stake. Soon, he has to find a way to save them both...
Suggested Reading Age 9+
Other titles