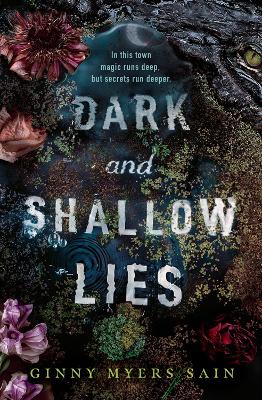 By Author / Illustrator
Ginny Myers Sain
Genre
Supernatural
Age range(s)
14+
Publisher
HarperCollins Publishers
ISBN
9780008494780
Format
Paperback / softback
Published
02-09-2021
Synopsis
A intensely romantic and atmospheric thriller for young adults, full of twists and turns with a simmering supernatural undercurrent. Perfect for fans of Holly Jackson, Karen McManus and Delia Owens' Where the Crawdads Sing
When 17-year-old Grey makes her annual visit to La Cachette, Louisiana - the tiny bayou town that proclaims to be the "Psychic Capital of the World" - she knows it will be different from past years: her childhood best friend Elora went missing several months earlier and no one is telling the truth about the night she disappears.
Grey can't believe that Elora vanished into thin air any more than she can believe that nobody in a town full of psychics knows what happened. But as she digs into the night that Elora went missing, she begins to realize that everybody in town is hiding something - her grandmother Honey; her childhood crush Hart; and even her late mother, whose secrets continue to call to Grey from beyond the grave.
When a mysterious stranger emerges from the bayou - a stormy-eyed boy with links to Elora and the town's bloody history - Grey realizes that La Cachette's past is far more present and dangerous than she'd ever understood. She doesn't know who she can trust. In a town where secrets lurk just below the surface, and where a murderer is on the loose, nobody can be presumed innocent-and La Cachette's dark and shallow lies may just rip the town apart.
Reviews
Sharon
In Dark and Shallow Lies, Grey is back in the small town of La Cachette where she was born and brought back to every summer. Except this summer is different and she is not prepared for what she will encounter. Her best friend, Elora, has been missing for months and Grey knows the last time she saw her they did not part on the best of terms. Stressful enough, but once you factor in the fact that La Cachette is a renowned psychic town and all of her close friends have additional talents that Grey appears to missed out on, and the story starts to get darker.
As she starts to explore what happened to Elora, Grey unearths uncomfortable truths about their relationship and also her friends' relationships with Elora. The appearance of the enigmatic and attractive Zale from the bayou triggers more unsettling feelings and emotions within both Grey and her friends. Hart is evidently struggling, Evie is acting very odd and Case is trying to put a positive face on. The only predictable element is the curmudgeonly alligator, Willie Nelson, who lives in the bayou.
Completely atmospheric in her writing, Ginny Myers Sain paints a portrayal of a place and a group of people where feelings run deep but threats and terror run deeper. This is a perfect book to curl up with on an autumnal evening, so long as you don't live by the bayou. The plot twists and convolutions do not disappoint, Grey's visions take a most surprising twist and the story builds to a crashing ending within the setting of a violent hurricane.
If you enjoy a story about secrets, lies, magic and psychic abilities, this is the one for you, but it is a terrific thriller with an intriguing plot and will most definitely appeal to a broad range of YA readers.
416 pages /  Reviewed by Sharon Bolton, school librarian
Suggested Reading Age 14+
Other titles