Dave and Greta Make the World Better!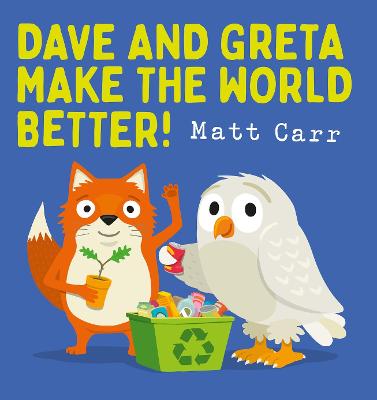 By Author / Illustrator
Matt Carr
Genre
Environment
Age range(s)
3+
Publisher
Scholastic
ISBN
9780702316067
Format
Paperback / softback
Published
02-06-2022
Synopsis
You're never too small to make a difference! Learn how to be an eco-warrior with Dave and Greta as they find little ways to make the world better.   Dave and Greta can see all around them that climate change is a really big deal. But they are so small, they're worried that they won't ever be able to make a difference. That's until they find out that actually, it's the small things that count! Whether it's turning off the tap when brushing our teeth, or not wasting paper when drawing pictures, Dave and Greta show us that you're never too small to make a difference.
A funny and reassuring story that's perfect for teaching little ones about the environment. A brightly coloured, rhyming picture book to read together at bedtime, again and again. With a page of handy tips so you can help to make the world better, too!
Text and illustrations © Matt Carr, 2022, reproduced with permission from Scholastic
Reviews
Elen
Dave and Greta Make the World Better is a simple, clear picture book that explains to younger children what climate change is. The rhyming text will help young children stay engaged as the animals in the wood start to learn about climate change. Some of the animals worry; others think it will be fine - they can hide in Bear's cave if it gets too hot. Wise young owl Greta does some research at the library to find out more about climate change, and discovers that there are small things that she and her friends can do to help make a difference.
The message, that no one is too small to play their part in helping the planet, is a positive one for young children and the images will help to show them that things like recycling, saving energy and not wasting water are all important for the health of the planet.  The final page, a non-fiction spread, also helps them to understand the importance of trees to our climate, and shows them how to grow their own oak tree.
This is a lovely book that covers the basics of climate change in a child-friendly, positive way that will help them understand the problem without feeling overwhelmed by it.
Picture book / Reviewed by Elen
Suggested Reading Age 3+
Other titles