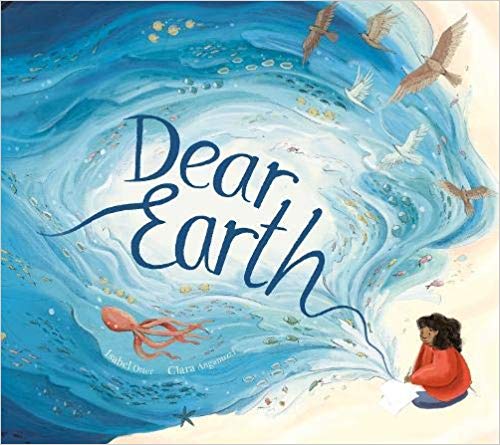 By Author / Illustrator
Isabel Otter, Clara Anganuzzi
Genre
Environment
Age range(s)
5+
Publisher
Little Tiger Press Group
ISBN
9781838911706
Format
Paperback / softback
Published
04-03-2021
Synopsis
She blows bubbles with whales, soars with birds and joins in with the noisy rainforest hullabaloo!
Tessa wants everyone to know how special our planet is. She believes that there is a chance to save the Earth if enough of us share the message...
Download the extract to write your own 'Dear Earth' letter to our planet.
Reviews
James
What a beautiful way to instil a love of our planet. This picture book by Isabel Otter has a wonderful message. The author uses Tessa, a curious girl with a brilliant imagination, as a platform for this story. Tessa's Grandpa talks about his adventures around the world and it fills her mind with awe and wonder. Tessa decides to write a letter to Earth and the reader is taken on a breath-taking journey through her thoughts. Tessa imagines amazing scenes, from swimming with turtles in the depths of the oceans to flying over snowy mountains.

Dear Earth is only made better by the stunning illustrations by Clara Anganuzzi, whose wonderful pictures lie in wait, ready to surprise and amaze the reader at every page turn. The text on the page is interwoven into the illustrations and some pages require you to turn the book into portrait as you read the words descending down through the oceanic scenery or up to the lush green jungle treetops.

As this book explores many of the Earth's biomes, it would be a fantastic starting platform for so many topics which look at the environment or habitats. Most importantly, the story would be highly conducive in inspiring and motivating children to get writing. At the end of the story, there is a letter template that can support children in writing their own letter to earth. Furthermore, the publisher has also made this template available to download for free online: perfect for teachers.

My own children enjoyed this, my six-year-old more so than my four-year-old. At the end of the story, the reader is given some ideas on how to best help our planet which is perfect because after reading this story, my six-year-old wanted to do just that.  I would recommend this book for children aged 5yrs and older or any teacher/parent who wants to instil a real love and respect for the planet.

Picture book / Reviewed by James Hewish, teacher
Suggested Reading Age 5+
Kyle
Isabel Otter and Clara Anganuzzi have created one of the most beautiful picture books I have had the pleasure of reading recently. Dear Earth revolves around Tessa, our inquisitive and caring star of the story. Tessa's grandpa was an explorer and now in his old age, regales Tessa with stories of his adventures around planet Earth. As he speaks, his words paint a thousand pictures in Tessa's mind. So much so that Tessa feels the need to write to the Earth to share her gratitude for what she has heard about and what she has seen.
Written from her point of view, we get to share in all the parts of the world that Tessa appreciates and wants to experience, from the deep oceans to the desert dunes. As you read, it is only natural to find yourself lost in the combination of beautiful language choices and wonderful illustrations. Even the way in which the text is arranged works to his advantage as you are encouraged to move with the book as you travel across the world.
From a teaching point of view, I can see this text become a real asset to my library and will be used when covering the topic of 'Our Wonderful World'. There is a clear message that our world is special and we should appreciate it. An absolute joy.
Picture book / Ages 4+ / Reviewed by Kyle Matravers, teacher
Suggested Reading Age 5+
Other titles