Diary of an Accidental Witch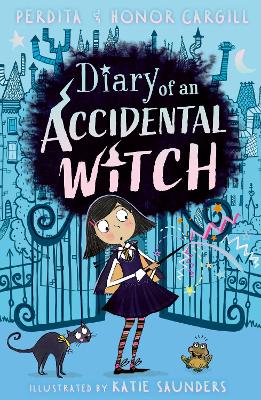 By Author / Illustrator
Honor and Perdita Cargill, Katie Saunders
Genre
Magical Realism
Age range(s)
7+
Publisher
Little Tiger Press Group
ISBN
9781788953382
Format
Paperback / softback
Published
02-09-2021
Synopsis
Monday 20th September
I'M AT WITCH SCHOOL! Now would be a really good time to discover I can do magic...
Bea Black has just moved to Little Spellshire, a town with a magical secret. When her dad accidentally enrols her at the local witch school, she has to get to grips with some interesting new classes, like, NOW! Also on her to do list? Make friends, look after the grumpy class frog AND do everything humanly magically possible to stay on a broom...  But with the Halloween Ball on the horizon, will she be able to master her wand skills in time to WOW? And more importantly can she keep her newfound magical abilities a secret from dad?
A perfect potion of magic and mischief, DIARY OF AN ACCIDENTAL WITCH is THE WORST WITCH meets TOM GATES.
Reviews
Nicola
Diary of an Accidental Witch follows the story of Bea Black as she moves with her father to the sleepy town of Little Spellshire. At first, Bea isn't really too concerned with the fact that there are a gazillion cats or odd shops like Mr Riggle's Emporium with the sign outside advertising fresh cuckoo spit; all Bea really concentrates on is exploring and recording her thoughts in the new diary her father has gifted to her. Her new friend, next door neighbour Ashkan, shows her around her ultra modern new school, Spellshire Academy.
Unfortunately, however, Bea's dad makes a mistake, enrolling her in the School of Extraordinary Arts! The story follows Bea's plight to fit in somewhere she was never designed to be, where she finds support in the oddest of places and learns that sometimes what you were certain you knew was so far from the truth they aren't recognisable. Including the things you were certain you knew about yourself.
This book has already become one of my favourites and I know that it will never sit on the shelves in school. It is funny, full of heart and the characters are so real that they leap off the page. The story is evocative of the Worst Witch but Bea stands alone and has her own voice. I would recommend for 7-10 year olds but it can easily be enjoyed beyond.
224 pages / Reviewed by Nicola Mansfield Niemi, teacher
Suggested Reading Age 7+
Emily
I was immediately transported into Bea's world, where she is surrounded by mystery and magic. The story, told from Bea's point of view, is thoroughly entertaining and I can imagine children in classrooms from Year 2+ enjoying this as a class read, where they can discuss Bea's mishaps after they finish laughing!
Diary of an Accidental Witch is well written, with a good flow to the story allowing children to feel completely immersed in the story. It is a good story for developing readers, as the layout and style helps newly independent readers to feel comfortable. Bea is a likeable character who children will be able to resonate with as she joins a new school and has to overcome her worries. It's a good conversation opener to how children might feel at school, as well as how we can find solutions to the problems they may have.
Alongside this, I love the interaction between Bea and the other characters - both nice and naughty! She has to navigate friendships and there are many interesting dynamics among the pupils. Again, these  reflect how some children may feel themselves and enable conversation to happen within a safe classroom environment.
A funny book which would be a fantastic story time choice!
224 pages / Reviewed by Emily Weston, teacher
Suggested Reading Age 7+
Other titles