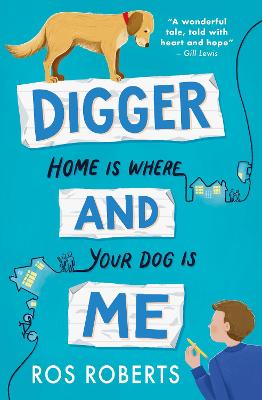 By Author / Illustrator
Ros Roberts
Genre
Animals
Age range(s)
9+
Publisher
Little Tiger Press Group
ISBN
9781788953207
Format
Paperback / softback
Published
13-05-2021
Synopsis
Where do I feel at home?
When I'm sitting with my dog, Digger.
James splits his life between his mum's and his dad's houses. It's far from perfect. Especially now Dad doesn't have time for bike rides with him any more and Mum's always with her new boyfriend. The constant is Digger, his dog and best friend. He's the glue that holds the two halves of James's life together.  So when James finds a lump on Digger's leg, everything changes. Digger is the one he can talk to about anything. But when it's Digger he needs to talk about, where can he turn?
A touching story about family, friendship and finding your voice, for readers of Jacqueline Wilson, Lisa Thompson and I, COSMO.  "A wonderful tale, told with heart, hope and a shiny wet nose." - Gill Lewis, author of SWAN SONG
Q&A & video of author Ros Roberts
Reviews
Kristen
In Digger and Me we meet James who is in Year 6 and muddling his way through a confusing time in his life. His mum and dad are separated so he spends his time between two houses - mum and her boyfriend, Dave and Dad and his girlfriend, Kathy. James isn't sure whether he likes Dave and Kathy. They both seem to have brought a lot of change with them. The one constant in James' life is his dog, Digger, who even goes to his Dad's with him when he stays there. Even school has been a bit uncertain as his class has had a few different teachers over the last few months. They've got a new teacher called Mr Froggatt now though and things seem to be looking up.
One day, James finds a lump on Digger's leg and he's worried it's something serious. On top of everything else that James is finding confusing and worrying, this just all seems a bit much. Mr Froggatt gives the class a different theme to write a poem about every week, though, and James finds comfort in that.
Digger and Me is so honest and relatable, I can see a lot of children finding it a comfort as they recognise things that are going on in their own lives in the story. Having parents that are separated is very common but it can be a confusing time for children, especially if they feel they haven't got anyone to talk to about it. James is honest about how he feels about the situation and he ends up channeling his feelings into writing poetry. I enjoyed the poetry interspersed into the story, this was something different and proved a great way for Mr Froggatt and the children to get to know a bit about each other.
The story deals with a pet having a serious illness in a sensitive way but still allows James to express his feelings about it. I read this book over a couple of days as I was totally hooked and wanted to know more about all of the characters. I am a Year 6 teacher myself and will definitely be recommending this book to my class. Such a heartwarming story and important topics addressed.
256 pages / Reviewed by Kristen Hopwood, teacher
Suggested Reading Age 9+
Other titles