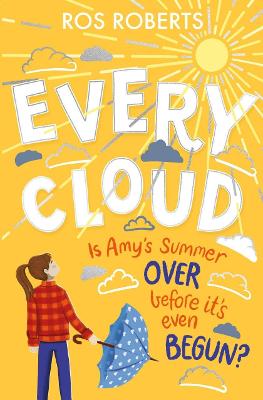 By Author / Illustrator
Ros Roberts
Genre
Friends and family
Age range(s)
9+
Publisher
Little Tiger Press Group
ISBN
9781788953467
Format
Paperback / softback
Published
14-04-2022
Synopsis
Amy feels like everything is going wrong. For a start, she's just found out she isn't going to the same high school as everyone else. Add to that her annoying younger brothers, Pops' worsening dementia and Cassie, her supposed best friend, being meaner than ever, and Amy's summer is not looking promising. Especially when Mum tells her they're moving in with Gran and Pops for the holidays ... all the way on the other side of town.

But then she discovers who lives over the road from her grandparents: Jay, the kind, quiet boy from school. Soon Amy realizes that friendship isn't always about who talks the most and the loudest, who does the most exciting things or throws the coolest parties. Sometimes a friend is just someone to talk to, someone to listen. But when outside pressures start to creep back in, can Amy hang on to her summer of silver linings?

A humorous and heartfelt story of new friends, fresh starts and silver linings, for fans of Jacqueline Wilson, Lisa Thompson and Cath Howe. 
Also by Ros Roberts:  Digger and Me
Find out more in this Q&A and Video from Ros Roberts
Reviews
Elen
Every Cloud explores the challenges that children might face when experiencing changes in their lives - in this case, the transition from primary to secondary school and especially how this impacts on friendships. Through the story, author Ros Roberts also explores other familial challenges including a move of house and the emotional challenge of having a grandparent with dementia.
Amy has discovered that instead of going to the same secondary school as her other friends, her family's move to the other side of town means she is likely to go to a different school. This causes pressures on her friendships at a time when she is also facing challenges at home, including a move to a less expensive area following her father's accident, and a summer staying with her grandparents as her grandfather has dementia and the family needs to help out.
Amy is full of anxiety about her new school and losing her old friendships but, as the summer progresses and she finds new friends - and ways to deal with complex friendships - she starts to look forward instead of holding on to the security of the past.  Amy is a thoughtful and maturing character who shows us that while life does give us challenges, change isn't always a bad thing.
Every Cloud is a gently-paced read that would be a good choice to offer children who are facing change and are worried about it, including moving house or transitioning to secondary school, as it explores many of the anxieties children might face, and how they might deal with them. Amy's challenging home situation will also resonate with many families.
336 pages / Reviewed by Elen Green
Suggested Reading Age 9+
Louisa
It's the end of Year 6 and, for Amy, nothing is going to plan. First, she finds out she isn't going to the same high school as her friends. Then her Mum tells her that they are moving in with their grandparents for a bit because her grandfather's dementia is getting worse, so now she's going to miss sleepovers and fun with her friends over the summer holidays, too. She veers between fury and guilt about the fury because, deep down, she knows it isn't her parents' fault.
Once at her grandparents, Amy discovers she half knows the boy across the road. He usually lives with his mother but he's spending the holidays at his dad's. He's quiet, he stutters, he's not one of Amy's triple besties. But he turns out to be a good listener. Slowly and awkwardly, Amy and Jay build a surprising friendship and gradually the summer doesn't seem quite so bad after all.
The back stories behind this book explore all kinds of emotional issues that affect children: parental divorces and house moves; parents injured in car accidents and relatives with dementia; money worries and new schools. I liked the way it normalised these and would make it possible to begin conversations about tricky topics. However, the characterisation was fairly superficial and the use of coincidences to make the plot work meant I was never completely lost in the book. It's a light read, though, and a handy addition to the library for those who like reading about school and growing up; stories that revolve around how friendships ebb and flow as classmates vie for popularity and mask their insecurities.
336 pages / Reviewed by Louisa Farrow, teacher
Suggested Reading Age 9+
Other titles