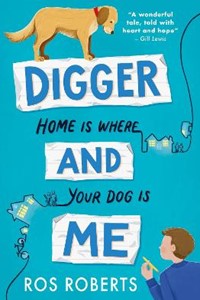 About Author
Ros Roberts' amazing teachers encouraged her love of writing, setting her daily challenges to create poems to read to the class. She became a teacher herself; in her own classroom, free writing was a daily necessity and she felt privileged to watch the children's progress when words flowed without boundaries. Ros loves dogs -
Texi, their beautiful Bernese mountain dog, inspired her debut book Digger and Me. Ros and her family have enjoyed living abroad in Vancouver, B.C. and Austin, Texas, but she is very happy and proud to be back living with her husband and three sons in the north of England, where her roots lie.
@rosiroberts #DiggerAndMe 
Interview
Digger and Me (Stripes Publishing)
May 2021
Digger and Me is a warm and often funny story about a boy and his dog, complex families and unlikely friendships, for readers aged 9+.
Q&A with Ros Roberts
With poetry excerpts from Digger And Me
1. What brought you into writing for children, and what other careers have you had?
I was a primary teacher and I read George Layton's 'The Fib and other stories' to my class and that book made me want to write. I loved the close, personal style and how realistic the characters were. I loved teaching but that was many years ago! I lived in Canada after I taught and I was a tutor, waitress, receptionist and volunteered doing tours of art galleries and an aquarium! But the best job of all is being in a room with 30 young people and writing with them!
2. Can you tell us about your new book, Digger And Me?
Digger and Me is about James, an incredible 11 year old boy. He is going through a tough time in his life but he always has his dog, Digger by his side - his constant companion. Digger becomes poorly and this throws life in to turmoil. His new teacher, Mr Froggatt is there to help - he inspires the Year 6 students to write poetry and this really helps James.
3. What inspired the story?
We lost our young Bernese mountain dog Texi. It was heart breaking for us all and it made me think about how dogs bind a family together.
4. Why did you want to explore the life of a child who is facing such big changes, and why does Digger have such a large part to play in it?
When we lost our dog it was so hard and it made me think about how difficult that would be if a young person was juggling other challenges in her/his life. Digger has such a large part because dogs bring people together - they are the thread that can bind a family and they can bring comfort and resolution in a way that adults can't! Clever things dogs!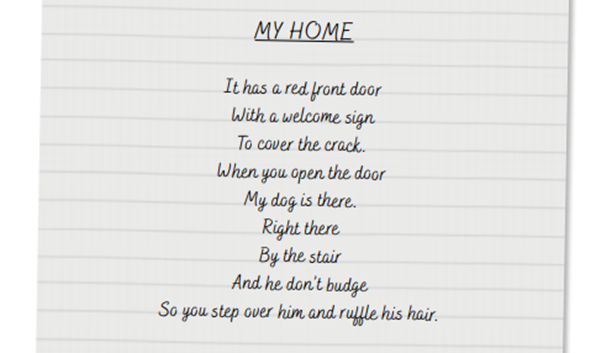 6. Can you tell us about the dogs that have had a big part in your life?
Mad Boxer dogs!!! My parents love boxers and we had two that were crazy! Later in life, they had rescue dogs and those were the best. So loving and devoted. We fell in love with Bernese mountain dogs during our time living in Canada. They are dopey and cuddly and just want to be loved! Of course, losing Texi was really hard but we now have Ozzie. He eats a lot and chews shoes...
7. During the story, we are introduced to James's two very different families. How well did you know all the characters before you started to write?
I knew Dave completely. He was one of the very first clear characters. I often start writing a book with two or three scenes crystal clear in my mind - one scene near the end with Dave was one of those and I don't think it changed much at all from the very first time I wrote it. Kathy changed a bit during the edits - I'm fond of her. Jackie and Peter evolved as I wrote - they both love James so much and that bond shines through Digger!

8. How did the teacher, Mr Froggatt, become part of the story, and did anyone help inspire him?
Ah, the wonderful Mr Froggatt. In Year 5 and Year 6 I had incredible primary teachers. I'd love to find them one day! One of them used to give me poetry prompts and two minutes to write a poem to perform to the class. So, I suppose Mr Froggatt is taken from amazing teachers who I knew 40 years ago. You never forget them. He also has a dash of other great teachers I've met over the years and a tiny weeny bit of me thrown in!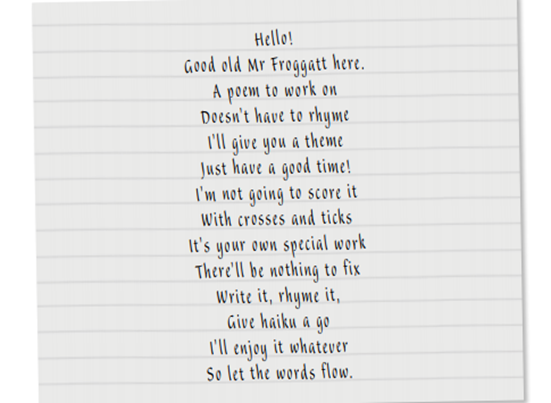 9. Mr Froggatt encourages the children to write free poems about their lives. As a teacher, is this something you encourage your classes to do, and if so why?
I haven't been a teacher for many years now but I loved it - it was a pure privilege. Free writing was absolutely essential in my classroom I've always found it hard to watch children being asked to write and then being told to stop and look up spellings or check grammar. That comes later when we edit! Free writing to me is as important as learning to tie your shoelaces or swim a length of the pool. It's important for developing a vital skill - being able to express yourself. And let's face it, whatever you choose to do in life, you have to write, even if it's just making a list or filling in a form. Footballers, plumbers, dentists, hairdressers, travellers - everyone has to!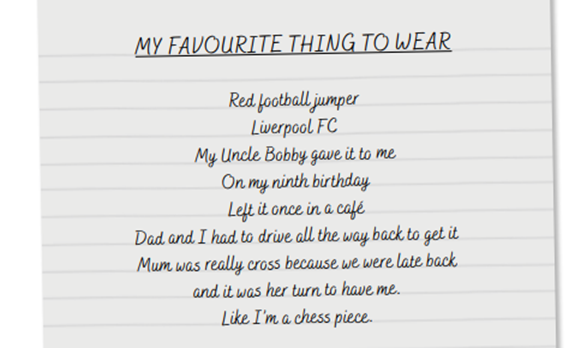 10. Do you have a favourite part in the story, or something that made you laugh while you were writing it?
Ooh great question! I love the scenes at the end but I also love Dave's funny anecdotes. Jim with his second large sausage roll and his skill at farting out birthday candles! It's lovely how you can build a character who doesn't actually appear in the book. I'd like to meet Jim!
11. Is there one quote or line in the book that you'd like to highlight?
"You're my home, Digger," I say.
12. Other than a great story, what would you like your readers to take from Digger And Me?
Friendships and relationships can take all forms. Be open to everyone and give everyone a chance to show who they are.
13. Where and when do you do your best writing? What are you writing now?
When I am writing a tricky part of the book, I always go out to write. I have my favourite cafes! I order brunch and then I have to just get down and write! At home, the dog barks or the washing machine beeps and I jump up! But in a cafe I can completely lose myself. Of course during lockdown, I had to write at home - I'm very lucky to have a little shed I retreat to. I'm working on my second book right now which is very different but I'm loving it. And poetry - I have some poems simmering away...
14. What are your favourite escapes from your desk / work?
Writing is my escape! It is truly my happy place. But I also love to play tennis and eat brunch and watch TV!
Author's Titles