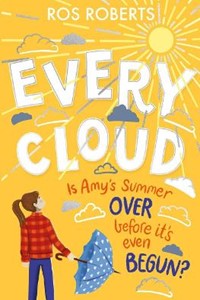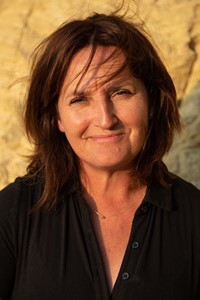 About Author
Ros Roberts' new book, Every Cloud, is a story of change and how we cope with the things that life brings.
Ros grew up when phones were attached to the wall by wiggly wires and music was taped on to cassettes. Amazing teachers encouraged her love of writing, setting her daily challenges to create poems to read to the class. She became a teacher herself; in her own classroom, free writing was a daily necessity and she felt privileged to watch the children's progress when words flowed without boundaries.
Ros loves the rain, eating brunch, tennis and TV. She loves dogs too – Texi, their beautiful Bernese mountain dog, inspired her debut book Digger and Me. Ros and her family have enjoyed living abroad in Vancouver, B.C. and Austin, Texas, but she is very happy and proud to be back living with her husband and three sons in the north of England, where her roots lie.
@rosiroberts 
Interview
Every Cloud  (Little Tiger Press)
April 2022
Every Cloud is a book about change, focusing on Amy's move to a new house and possibly a new school, but exploring how the changes in her life affect her and her family, as well as her friendships old and new. Author Ros Roberts tells us more about her new book in this video and Q&A.
Read a chapter from Every Cloud
Q&A with Ros Roberts
1.   What kinds of stories do you enjoy exploring / writing? Do you prefer to draw on your own experiences when writing?
My writing is all about the everyday. I focus on the small things in life that can make us super happy or challenge us to make sense of it all. Friendships, families, jealousy, happiness, grief, doubt, envy: you'll find them all in my books!
When I write I draw on my own life, on my experience as a teacher and on my vivid, strong memories of being about ten years old. I loved being that age and it strikes me that much of how I feel about life now, is the same as it was then. I hope young readers sense that honesty in my writing. We all struggle in the same way; adults just know more about the boring things in life!

2.   What have you most enjoyed about being an author, following your debut Digger and Me?
My biggest thrill is being able to start working with young writers in schools. I see it as an utter privilege. I am passionate about free writing and running creative writing workshops has always been my dream.

3.   Can you tell us about your new book, Every Cloud?
This is Amy's journey but also features a remarkable boy called Jay and a real dude Grandpa called Pops. The three of them each have their own struggles and they form a rather lovely bond that helps to find a way forward.

4.   And what inspired it?
I was playing with ideas for my next book when my lovely editor mentioned it would be great to have a book about siblings. I am one of three and I have boys myself, so I know lots about siblings and the funny ways they can work.
Jay and Amy already existed in a book I wrote a long time ago. Since I wrote that story, I have moved house, moved countries and seen my parents' generation become grandparents. I was keen to write a book showing the wonderful relationships young people can have with the older generation. I returned to Amy and Jay and developed their new story to create Every Cloud.

5.   The book follows Amy's move to a new house and a new secondary school. Why did you want to explore this time of transition?
It can be a tricky time and I've seen this from all angles: teacher, mother, friend. For some young people it's straightforward and easy. For others it's riddled with challenge. I hope Every Cloud can help those who are struggling, to know they are not alone and that many young people find this a complicated and confusing time.

6.   Not all Amy's friends cope well with the changes. Why do you want to bring a toxic friendship into the mix?
I assume by toxic you mean Cassie! Ah - Cassie. She falls at almost every hurdle but often does so because she is struggling to deal with things that life is throwing at her, especially the fact that Amy may not be going to the same high school as her in September. I hope there are clear signs that Cassie can be lovely and that she learns lessons over the summer months that will help her to be a better friend. Many people have to deal with a Cassie; that's why she's there!

7.   You also explore dementia and the effect this can have on the families, was this something you had to research for the book?
Yes, I did lots of research. Some of this was on the internet or by reading books but the most valuable research was speaking to friends and contacts who have experienced dear relatives suffering from this very difficult condition.

8.   We love the game of 'shove ha'penny that Amy's grandfather plays, was this something you grew up with?
I never played it but as my own sons grew up, my Dad got his shove ha'penny board out and taught them how to play. It's a simple, quiet, thoughtful game but the roars of joy when a hard fought game is won, always ring through the house!

9. Have you brought any (other) of your own experiences into the book?
I loved it when my sons were babies. Maxi is a mix of all my sons! A lot of Gran's gentle ways come from my Mum: she had a wicked sense of humour and could make anyone laugh out loud. I have a son who loves nature, like Sam. We moved house when my boys were in primary school and we also lived abroad. All those experiences must influence my writing, even if I'm not conscious of it at the time. One thing is sure: this is Amy's story and hers alone!

10. Clouds or silver linings: which one do you see?
Well, I'm a pluviophile, a lover of the rain, so I adore clouds and dark skies and rain at any time of the day! But I always try to find hope in life and I truly believe that bad times in life and solving problems only help us to appreciate the good times more.

11. What would you like your readers to take from Amy's story?
That's a great question as that is what is most important to me. I would love readers to see that life throws you curve balls and the path can seem very muddy and unfair. This happens to all of us at some point in our lives and we have to work through those times and come out the other side, often stronger for those experiences. I would also love my readers to see how Amy's relationships change and develop and that new, wonderful friendships come at all stages of life and often when you are least expecting it!

12. Where and when do you write?
I always write in the morning for two hours, either at home if I'm on a roll or at coffee shops if I need to be free of any distraction and have a tricky bit to work on.

13. Do you ever get writer's block, and if so what do you do about it?
I have times when I choose not to write but so far the block has left me alone…long may it last! I do have times when writing is hard and I'm not sure how to form the next part of the story. At that time, I always go out to write. Coffee, bacon roll, no distractions, phone away… and the words find me. My very happy place!

14. What do you enjoy doing when you're not at your desk?
I love to play tennis and to eat brunch and cheese and watch TV! My dog is huge and hairy and needs tonnes of love so he takes up much of my time!
Author's Titles