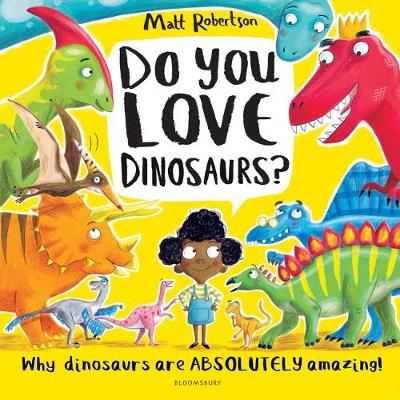 By Author / Illustrator
Matt Robertson, Matt Robertson, Matt Robertson
Genre
Non Fiction
Age range(s)
5+
Publisher
Bloomsbury Publishing PLC
ISBN
9781526609533
Format
Paperback / softback
Published
01-04-2021
Synopsis
Some dinosaurs had a deadly bite and others could run super fast. Some had club-like tails and some could make the smelliest of farts - POO-WEE! But wait, don't run away... Because dinosaurs are actually awesome!
From the ferocious hunters like Spinosaurus and T.rex to the gentle giants like Diplodocus and Titanosaurus, the speedy Velociraptor to the armoured Ankylosaurus, discover all the weird and wonderful things that made dinosaurs so AMAZING. Did you know that some dinosaurs laid eggs the size of footballs? Or that there's a fossilised dinosaur poo as long as your arm? And have you ever heard of a certain dinosaur that could outrun a racehorse? Find out about all this and more - and then decide: do YOU love dinosaurs?
Reviews
Wendy
Dinosaur books are usually always a winner so I had high hopes for this, and wasn't disappointed. Written by Matt Robinson, author of the award winning Do you Love Bugs?, it follows a similar style of bright, cartoony illustrations and a chatty style of writing. The text is clearly laid out and each page is filled with longer pieces of text that will challenge a Year 2 reader and shorter facts that a developing reader can easily decode and quickly gain something from.
The book includes all the old favourite dinosaurs like Tyrannosaurus Rex and Diplodocus but also some less well-known ones more recently discovered, such as the Dreadnoughtus. Pages are arranged by type, so if you want to know which dinosaurs were herbivore then turn to 'Leaf Loving Veggies'. Who were the fastest? Check out 'Dino Sports Day' for a quick guide.
If I had one criticism it would be that there is no help with pronunciation of the names. I think inclusion of a phonetic breakdown of each one, somewhere in the text, would have been helpful. I'm still not entirely sure if Patagotitan is said 'pat-a-go-titan' or 'pat-a-go-shun' but this is only a small point, and not one that detracts overall from the quality of this book.
Suitable for use in school to support a dinosaur topic for Years 1 to 4, for a Year 2 reading book or a gift for a dinosaur mad youngster, this book will surely become a firm favourite.
Picture book / Reviewed by Wendy Kelly, teacher
Suggested Reading Age 5+
Other titles