Does This Poo Belong To You?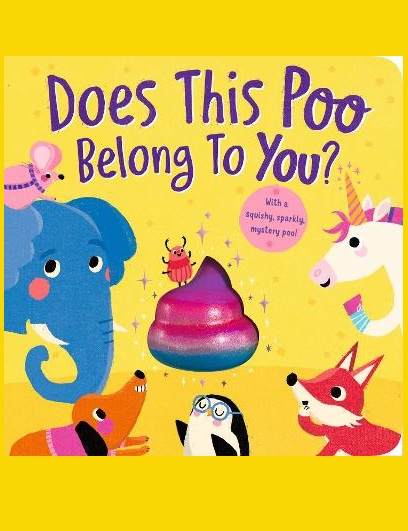 By Author / Illustrator
Danielle McLean, Anna Sussbauer
Genre
Funny Stories
Publisher
Little Tiger Press Group
ISBN
9781801044530
Format
Board book
Published
08-06-2023
Synopsis
A mystery poo has appeared but whose could it be?  It's too colourful to be mine, says the elephant. It's too sparkly to be mine, says the fox. It's too... FLYING! to be mine, says the mouse. Can the bewildered animals solve the magical poo mystery and find the culprit?
Does this poo belong to you?
It's not mine. It's pink and blue!
Does this poo belong to you?
I think the sparkles are a clue . . .
A fun, immersive story with a glittery, squishy poo, stylish illustrations and rhyming text - perfect for reading together.  This hilarious board book with a touch and feel element is sure to be a firm favourite with fans of Wish Upon a Poopicorn, unicorns and . . . poo!
Reviews
Ashley
I read Does this Poo Belong to You? out loud to a group in my reception class, a rhyming, easy-to-read story with lovely colourful illustrations. After the initial laughter, and squishing of the glittery purple poo, the children did enjoy listening to the rhyming story, and talking about whose poo it could be. They tried to join in with the rhyming text and discussed poo (which will always make children laugh out loud!). A fun story to share with a nursery and pre-school children.
Board book / Reviewed by Ashley Clayton, teacher
Suggested Reading Age 0+
Other titles