Dragon Storm: Erin and Rockhammer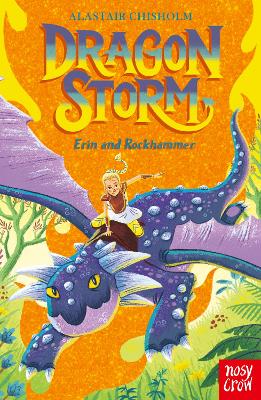 By Author / Illustrator
Alastair Chisholm, illus Eric Deschamps
Genre
Fantasy
Age range(s)
7+
Publisher
Nosy Crow Ltd
ISBN
9781839942228
Format
Paperback / softback
Published
12-01-2023
Synopsis
The sixth book in a thrilling, magical, and action-packed new fantasy series, illustrated throughout and perfect for 7-9 year olds!
In the land of Draconis, there are no dragons.  Once, there were. Once, humans and dragons were friends, and created the great city of Rivven together.  But then came the Dragon Storm, and the dragons retreated from the world of humans.  To the men and women of Draconis, they became legends and myth.
When Erin and her dragon Rockhammer get into a fight with another dragonseer, they're sent away to Stillness. There they discover the Solace Stone, a magical object that creates calm. In the peace of Stillness, Erin almost forgets that she can't summon her dragon Rockhammer. But when mysterious soldiers storm Stillness, destroying her home in the process, Erin must find a way or risk being trapped forever...
An exciting fantasy series from the highly acclaimed author of Orion Lost, brilliantly illustrated throughout, and perfect for fans of Beast Quest and How to Train your Dragon.
Find out more from author Alastair Chisholm
Reviews
Sam
Dragon Storm: Erin and Rockhammer, is the sixth book in the Dragon Storm series by Alastair Chisholm, and just like others in this series it makes for an exciting read, ideal for any newly independent reader. This short story wastes no time with 'pleasantries' and gets straight to the action. We first meet Erin '…sword high and her shield ready, and waiting for her enemies…' Fortunately for Erin, this sword fight is only part of her training as a Dragonseer, however, that doesn't stop her defeating all four of her fellow trainees.
Erin is a fine sword fighter, quicker and more skilled than most, but that's not quite enough to make her a confident Dragonseer. Dragonseer's, as the name suggests, are paired with their own dragon with which they then serve to protect the people and land of Draconis. However, Erin still has a problem summoning her dragon, something the other student Dragonseers can do easily, some with just a simple click of their fingers! Erin lacks confidence in her ability and is frightened of the feelings she experiences when trying to summon Rockhammer, her dragon. So when the chancellor of the Dragonseer Guild, Lady Berin, tells Erin she would like her to go to a place outside of the city for help her with her feelings, Erin immediately becomes even more worried. She feels she is being moved on, just like when she was part of the foster care system; when things 'weren't working', she would be moved on. Lady Berin assures Erin this is not the case and Erin, and one of her least favourite fellow Dragonseer trainees, Connor, are sent off out into the world beyond the safety of the Dragoonseer Guild.
As with other books in this series, I really liked the illustrations throughout the book, just enough to keep the interest of a young reader without distracting them from the read itself. This is a super short story. An action-packed page-turner that includes themes of friendship, trust and courage. Ideal for any KS2 classroom, particularly those where readers have still to find their 'hook book'.
160 pages / Reviewed by Sam Phillips, teacher
Suggested Reading Age 7+
Other titles