Dread Wood (Dread Wood, Book 1)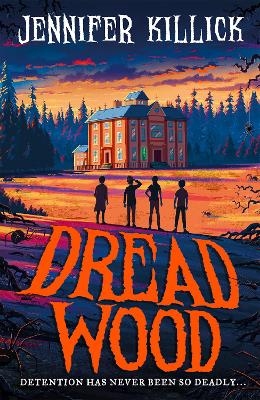 By Author / Illustrator
Jennifer Killick
Genre
Horror
Age range(s)
9+
Publisher
HarperCollins Publishers
ISBN
9780755503711
Format
Paperback / softback
Published
31-03-2022
Synopsis
The brand new must-read middle-grade novel from the author of super-spookyCrater Lake. Perfect for 9+ fans of R.L.Stine's Goosebumps.
It's basically the worst school detention ever. When classmates (but not mate-mates) Hallie, Angelo, Gustav and Naira are forced to come to school on a SATURDAY, they think things can't get much worse. But they're wrong. Things are about to get seriously scary.

What has dragged their teacher underground? Why do the creepy caretakers keeping humming the tune to Itsy Bitsy Spider? And what horrors lurk in the shadows, getting stronger and meaner every minute . . .? Cut off from help and in danger each time they touch the ground, the gang's only hope is to work together. But it's no coincidence that they're all there on detention. Someone has been watching and plotting and is out for revenge . . .
Reviews
Linda
Jennifer Killick is a rare talent. She's an author that gets better with every book she publishes. Her mastery of the comedy-horror genre increasingly astonishes me and just when I think her books can't get any better, she releases an even more deliciously dark delight. I absolutely loved the Crater Lake series and so approached Dread Wood with equal parts excitement and trepidation. Could another gang of pre-teens possibly capture my heart like Lance and co had? And yet, with her rare brand of writing magic, Killick brings to life Angelo, Hallie, Gustav and Naira; a crew every bit as believable and intricately created as their Crater Lake counterparts.
Dread Wood brings sinister to another level: it's a properly creepy, goosebump-inducing read, off-set perfectly by genuine laugh out loud moments. When four classmates are forced to attend a Saturday detention, the last thing they expect is to have to contend with is a disappearing teacher, two creepy caretakers and endless untold horrors. Can they make it out alive or will this detention be their last?
Killick's ability to capture the voice and essence of her young characters is truly remarkable. The character development is excellent; the dialogue witty; and the plot unpredictable and well-paced. Dread Wood is a perfect book for pupils in Year 6 and beyond who fancy a frighteningly funny tale.
336 pages / Reviewed by Linda Canning, teacher
Suggested Reading Age 9+
Jennifer
Dread Wood is the superb, super-scary and super-cool new horror-comedy story from the brilliant Jennifer Killick. After her last two books (the fantastically creepy Crater Lake and Crater Lake: Evolution), Jennifer has, yet again, upped the level of stylishly slick, sinister storylines and honed her clever range of shock / comedy techniques - from the laugh-out-loud, nose-snortingly funny moments, to the cheekily edgy asides, to the poignant warm-hearted, gentle, fun scenes she does so well.
Jennifer Killick knows her middle grade readers well and always has the perfect tone and style of pre- teen banter and swagger depicted in the character group dynamics she creates. The quartet of classmates (categorically not actual friends, though!) suffering a Saturday morning detention has no idea what lies ahead. Or, more accurately, what lies below. Something far worse than four hours with the relentlessly perky and upbeat "down with the kids" teacher Mr Canton.  Does the whistling and ever so odd caretaker look to be up to no good in the school grounds? What exactly is causing some serious underfoot movements on the school field? With their phones missing in action (along with their teacher), the four are left stranded in shocking Saturday morning situation they never could have envisioned.
Dread Wood is an absolute stunner of a scary story; so exhilarating and gripping that I couldn't put it down. Chapter after chapter ends with heart thumping, nerve shredding cliffhangers that you simply have to read on and on. Jennifer excels at ramping up the genuine fear and mounting horror that the reader experiences throughout the story - but it is always at the right level to tease and thrill the reader with terror and not terrorise them. Her skill in creating characters that we really care about, see ourselves reflected in and want to root for creates a background of security and safety for the reader. We become so invested in the individual backstories of her young heroes (their home lives, their health issues, their guilt at bad deeds) that we are right with them, championing them on to defeat whatever threatens them and, crucially, we know that so is their author.
A firm favourite author now from KS2 onwards, Jennifer Killick's Dread Wood represents the style, substance, coolness and cleverness that makes children's literature just so exciting and joyous to read and share in schools right now.
336 pages / Reviewed by Jennifer Caddick, teacher
Suggested Reading Age 9+
Other titles