Dreamweavers: Night of the Scary Fairies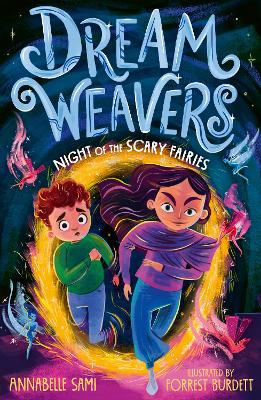 By Author / Illustrator
Annabelle Sami, illus Forrest Burdett
Genre
Adventure
Age range(s)
7+
Publisher
Little Tiger Press Group
ISBN
9781788956000
Format
Paperback / softback
Published
07-09-2023
Synopsis
Meet the ultimate Dream Team!  When Tito becomes friends with the mysterious new girl at school, Neena, she introduces him to the world of Dreamweaving. Soon Tito and Neena are going on adventures every night - exploring dreams where quirky creatures called jinn roam. And when their classmates start acting strangely, they realize someone else is using Dreamweaving to cause chaos. Can Tito and Neena stop them before the dream world takes over the waking world?

The first book in a fun, fresh and exciting new series, for fans of Laura Ellen Anderson, Star Friends, Peanut Jones and Witch for a Week.
Q&A with Annabelle Sami & Forrest Burdett: Dreamweaving and Diversity in Children's Books
Reviews
Jenny
Dreamweavers: Night of the Scary Fairies is the first book in a new series taking the reader on adventures with a dreaming duo who can weave their own dreams and share their 'dream weaving' with each other. It is a wonderfully magical story that itself weaves acts of imagination, influenced by different cultural myths and folklore.
Sensitive young boy Tito has had the strangest dreams lately - nerves, he thinks, at starting another new school year and heading into Year 5. While comfortable with best friends Murray and Tiff, Tito feels awkward, self-conscious and struggling to connect with new girl Neena. He decides to break the ice by finding out some facts about her background in Chistral, Pakistan, to chat about. Tito soon discovers mythological tales galore about Neena's homeland; tales of night demons and hellhounds that terrify him and even the fairies and pixies he reads of are enough to make his nervous heart race and cause him to have yet another unsettled night's dream full of tiny, sly flying figures.
These dreams are no coincidence and Tito's blossoming friendship with Neena begins when she informs him that he is dreaming of the 'jinn' - spirits from her own culture - and that she and he are both 'Dreamweavers'; they can control and create their own dreaming minds, meet in each other's dreams and even have the power to create portals into the dreams of others. Neena teaches Tito techniques and skills he never believed possible - his wildest dreams, in fact.  There is danger in the dreaming world, however, when the normally kindly mischievious jinn are found to be causing chaos in dreams. As dreamweavers, only Tito and Neena have the powers to help return order to the dreaming and everyday world.
This is a wonderfully imaginative book that explores the magical and mythical together. It is full of diverse characters and backgrounds - both explicitly in the plot, with the Pakistani cultural beliefs in mythical beasts, and also representatively in other elements of the story, including Tito's home life with his Italian Mama and DIY-obsessed Mum.
It is excitingly creative as Tito weaves ever more elaborate dreams and there is a huge sense of fun and joy as Neena and Tito conjure up cream-filled cakes, moustached sparrows and sweet pastry flowers. Frequent illustrations bring the characters even more into focus - especially Tito himself, growing from a worried, timid boy into an ever more confident Dreamweaver, harnessing his powers to help others.
Dreamweavers is a charming story with a lot more to come as Darkweavers remain threateningly on the horizon and the 'Dream Team' duo pledge to protect the world. A delightful start to a colourful new series.
192 pages / Reviewed by Jenny Caddick, teacher
Suggested Reading Age 7+
Emma
Just before a new school year begins, Tito starts to have odd dreams - he wakes up on a cliff edge in his Spiderman Pj's, where he encounters strange beings who turn out to be fairies (Jinn). On the first day of the new term, Tito is asked by his teacher to look after a new pupil from Pakistan - Neena. Neena is quiet until Tito tells her about his dreams and she tells him they are both Dreamweavers - people who can control their dreams. Night after night, Tito and Neena meet in their dreams. However, they discover that the Jinn are playing tricks on their friends during their dreams and this is causing problems at school. Can the dreamweavers discover who is behind the problems, and how to stop it happening? 
Dreamweavers: Night of the Scary Fairies presents lots of questions that require answers and the ending is open for a further book in the series. The story is ideal for those aged seven years plus who enjoy magical stories. It has lovely detailed illustrations by Forrest Burdett and its descriptive, imaginative language has the magic to transport you to another world.
192 pages / Reviewed by Emma Nelson, teacher
Suggested Reading Age 7+
Other titles