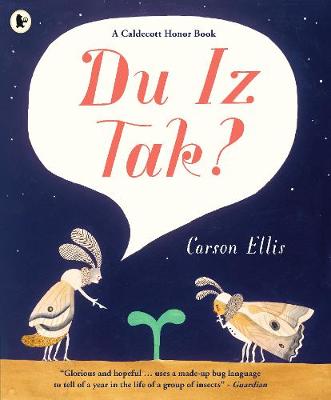 By Author / Illustrator
Carson Ellis, Carson Ellis
Genre
Adventure
Age range(s)
5+
Publisher
Walker Books Ltd
ISBN
9781406373431
Format
Paperback / softback
Reviews
Louise
Young and old will be captivated by this book through its sheer brilliance and originality. A book about two damselflies, a plant, some other mini beasts and an intriguing 'bug language'. A tiny shoot unfolds and begins to grow, as ants, beetles and damselflies look on in wonder and imagine what it is, and all the while a caterpillar lies still in his cocoon, oblivious to the changes happening around him. The magic of Du Iz Tak? is its ability to draw the reader in, enticing the reader to decipher and interpret this strange language and as one does, the pace at which the story is read slows right down and you find yourself observing every minute change that has occurred. Just as with nature, a child can begin to see and appreciate the subtle changes, the growth of the plant, the new inhabitants that arrive and the story that unfolds as the cycle of nature unwraps around the text. It stimulates conversation, discussion; children would have great fun giving the bugs names, describing their characters, predicting what might happen next and why in relation to what they already know of the world around them. But its real strength lies the instinctive need to tell a story. Children and adults alike can guess at what the 'bug words' might mean and in doing so, inadvertently create a narrative all by themselves. This really is an ingenious book which, through its visual literacy, stimulates the spoken and written word effortlessly and with a great deal of fun. Picture book / Ages 5+ / Reviewed by Louise Gahan, teacher.
Suggested Reading Age 5+
Sue
Du Iz Tak? follows a year in the life of a group of insects. Using a made-up bug language, the story is told in the dialogue between the creatures as their world changes. Because the story follows events shown in the pictures and some phrases are repeated, guessing what the bugs are saying is satisfying, but it also allows emergent readers to interpret the text on an equal footing to adults. The triumphant 'Ta ta!' of the caterpillar dangling upside down from a twig is later repeated by others so what might first be read as 'ta-da' later seems to mean 'bye bye'. The illustrations are wonderful and each spread offers plenty of details about life in the bugs' world - a twig is not a twig, a toadstool grows, insects serenade one another under a moonlit sky - the circle of life continues. The book offers a fabulous bugs' eye view of the world and its wonders with plenty of untold stories to explore. 48 pages / Ages 5+ / Reviewed by Sue Wilsher, teacher.
Suggested Reading Age 5+
Other titles