Earth's Aquarium: Discover 15 Real-life Water Worlds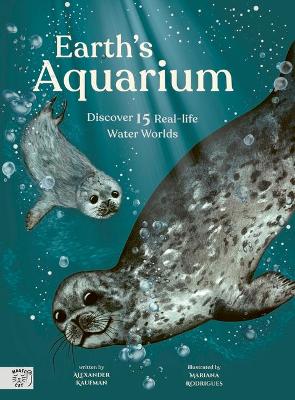 By Author / Illustrator
Alexander C. Kaufman, Mariana Rodrigues
Genre
Environment
Age range(s)
9+
Publisher
Magic Cat Publishing
ISBN
9781913520090
Format
Hardback
Published
10-06-2021
Synopsis
Explore 15 real-life water worlds and meet the wildlife that makes each one unique.

Discover the incredible real-life aquariums that have turned our precious planet blue, from seagrass nurseries to open ocean, from deep-sea vents to tropical coral reefs, from mangroves to coastal estuaries. This beautiful book celebrates aquatic life in all its forms, from the great blue whale to the tiniest shrimp.
Reviews
Sharon
This dazzling picture book has 15 watery environments for the reader to explore, each with a double page spread with an introduction describing the habitat, followed by another double page spread of the creatures which live there.
We didn't realise there were so many different water habitats and this book lead to some further research about where in the world each place is and also some exploring of the creatures.  Our favourite new discovery is the Whitemargin unicornfish (Naso annulatus) which lives in Wadi el Gemal's seagrass meadows. It has a horn-like project on its head, the purpose of which has yet to be explained by scientists. Mariana Rodrigues' illustrations are stunningly detailed and really make every page a joy to look at.
For those children aged 8+ who love science or nature, this is a fascinating book. It is full of rich vocabulary which can lead to further research into where in the world the places are and to discover more about the creatures of the oceans and seas.
This book could be used for a geography, environmental or science topic in school and I'd have no hesitation in heartily recommending it for upper key stage two children.
80 pages / Reviewed by Sharon Porter, teacher
Suggested Reading Age 9+
Megan
Earth's Aquarium explores 15 real-life water worlds, looking closely at the wildlife that makes each one unique. The content ranges from the coral reefs at the Great Barrier Reef in Australia and their unique ecosystem to the deep waters of the Tyrrhenian Sea in Italy and their record-breaking biodiversity.
The illustrations in the book are beautiful and help bring life to the wildlife. This book is full of interesting facts about aquatic life. Earth's Aquarium also highlights the horrifying effects climate change and pollution are having on these stunning environments.
Earth's Aquarium would make a great learning tool for those learning about animals and habitat although I would suggest this book for ages 9+, due to the text size and vocabulary.
Overall, I found this to be an engaging and delightful read.
80 pages / Reviewed by Megan Webb, teacher
Suggested Reading Age 9+
Other titles