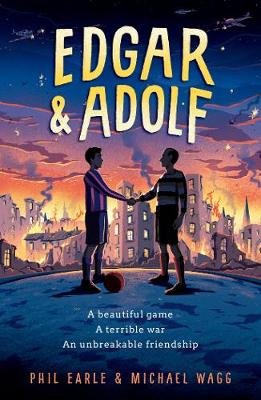 By Author / Illustrator
Phil Earle, Michael Wagg
Genre
Historical Fiction
Age range(s)
11+
Publisher
Oxford University Press
ISBN
9780198494911
Format
Mixed media product
Published
07-01-2021
Synopsis
When he inherits a special football badge, German teenager Adi sets off on a mission to fulfil his grandfather's dying wish and return the badge to its rightful owner, former England footballer, Edgar Kail.After tracking Edgar down, Adi gets the chance to learn more about the achievements of his grandfather, Adolf Jager, and the story unfolds of a special friendship that spanned twenty years and survived the horror of the Second World War.  Edgar Kail and Adolf Jager played for their respective clubs in the early twentieth century and they remain folk heroes even now. Perfect for less-confident readers, this is a fictional tale of two real-life footballing heroes, and the moving story of a friendship forged by the beautiful game.
Reviews
Stephen
When former football star Edgar Kail opens his front door to find 17 year old Adi on his doorstop, he tries to shoo the boy away, thinking he is trying to sell him something. As he closes the door, however, the boy mentions a name that makes Edgar stop and invite Adi in. Adi has mentioned a name from the past - Adolf Jager, his grandfather - and wants to complete a mission his grandfather was unable to - and he has no intention of going back to Germany till be has done so.
So starts a journey of discovery between the two men as Adi tries to find out more about his grandfather and his mission, and Edgar tries to recall memories from the past about his friend Adolf Jager, a friendship only WW2 could affect.
This is a wonderful story about friendship across the decades. The story weaves between 1983 and the past as letters and memories are shared between Adi and Edgar recalling events involving Adi's granddad Adolph, a German football player. I found this a really engaging story, linking these three characters over 50 years and all starting with a game of football.
If you're not a fan a football, don't let that put you off this story as it's so much more than football. It's about friendship, uncovering the past and a reminder that that we never know the impact that a kind word or taking the time to have a quick conversation with someone will have on their life.
The author's notes at the end of the novel provide further interesting information about the story. Edgar and Adolf is a really touching story, beautifully told, and one I would encourage you to read.
144 pages / Reviewed by Stephen Leitch, school librarian
Suggested Reading Age 11+
Joanna
A beautiful story about friendship and courage. Although based on football, this book will appeal to a range of young people as its message is one of compassion and warmth.

Edgar and Adolf is a story loosely based on real people who became friends before the Second World War. The story has a duel narrative, flitting between the present day (1983) and the memories of the characters (1925- 1948). It begins with a teenage German boy - Adi - who is seeking a British former football hero - Edgar Kail - in order to return to Edgar a prized possession held by his Grandfather, another former football hero, Adolf Jager.

The story takes us to Scotland where Adi finds Edgar and the story of the two footballing legends unravels. We are taken on a journey to late 1930 before the war, where a young and aspiring footballer Edgar meets a young Adolf on a football pitch. The two are as incredible on the pitch as each other and soon become friends. But as Adolf Hitler takes control of Germany, the two footballers are forced apart, but their friendship remains strong. The duel narrative works perfectly, combining the new friendship forming between Adolf's grandson, Adi, and the memory of the friendship of Edgar and Adolf. With some very moving moments along the way, this story teaches that friendship is more powerful than any rivalry.

Even if you are not a fan of football, you will enjoy this moving story. It is a story of resilience, strength and friendship. There are some very sad moments during the memories and you cannot help but fall in love with the characters. I particularly enjoyed the author's note at the end that explained these characters were real and explained the history behind this story, although the authors have added some embellishments. This added a very 'real' feel to this book, to know some of the events really did happen and that the characters really were famous footballers for their time and really did build this bond. I think this story will become very popular with young people as it appeals on so many levels and leaves you feeling a warmth and sadness that only comes from reading a wonderful narrative.

Written in association with Barrington Stoke, with larger font, sepia paper and short chapters, this book is a lovely accessible book for all readers.

144 pages / Ages 11+ / Reviewed by Joanna Hewish, teacher
Suggested Reading Age 11+
Julie
The story begins when Adi, a German teenager is sent on a quest to England by his beloved grandfather Adolf Jager. Adi must track down an old footballing hero - Edgar Kail. Adi manages to find Edgar who is now an old man living alone in a Scottish town. However, when Adi gives Edgar a gift from his grandfather, Edgar begins to retell the story of his once brilliant football career and his friendship with the legendary German footballer Adolf Jager.

Edgar and Adolf is a magnificent story based on the lives of two real-life footballers who were playing for their respective teams and countries between the end of the First World War and the outbreak of WWII. As Edgar sits in his room with Adi he unearths a shoe box full of old newspaper clippings, letters and memories of his footballing days. The story is told through a series of flashbacks. As Edgar carefully takes out each piece of paper he begins to tell Adi how he and Adolf's love of football made them true friends and how the outbreak of WWII would affect their lives forever. Edgar and Adolf is a moving and thought-provoking story.

Edgar & Adolf is part of the new Super-Readable Rollercoaster series from Oxford University Press in association with Barrington Stoke. This really is a book that is 'super readable' especially for those young people who struggle to read or who struggle to find a story that they can really engage with. The writers have created short, exciting chapters which leaves the reader wanting to find out what happens next. I liked that they have been clearly sign-posted so that the reader knows exactly when and where in time each chapter is based. This simple device allows the reader to easily stay on track with the plot. I also really liked how each chapter was slightly different, it could be based on a newspaper article, or a letter, or a press conference giving the reader a nice variety of formats within the text.

There are so many features jam-packed into this new series that the books will engage and appeal to all types of readers. The additional content will also help those young people who may have a barrier to reading. The font and layout is in the Barrington Stoke style which is dyslexia friendly. The text is well spaced out and is printed on buff coloured paper. However, this series offers the reader so much more and this is due to the fabulous content that has been included at the back of the book. The author's notes give the reader a real insight into the historical background and the real lives of the main characters, a feature I think that will really inspire readers. I liked that they have included a comprehensive word list that allows the reader to check their understanding of the text.

This series would work so well with either a reading group or with a student on a one-to-one basis. The style and content are ideal for building confidence and reading stamina. The additional material in the book includes a quick quiz which will help to check a students' understanding and it also has a section asking What do you think? Again, a great feature that will enable lots of discussion opportunities centred around the main themes and issues raised in the book. Another highlight that I thought was so simple yet effective was a page giving suggestions on what to read next. This is great for helping to encourage students to continue with their reading journey.

Edgar and Adolf is part of a fantastic new series of books that includes work by award-winning and best-selling writers, Anthony McGowan and Patrice Lawrence. Not only are the stories engaging and thought provoking, but the additional content is so well placed and thought out that it will benefit any reader that chooses to read these books. I cannot wait to share them with my reading groups at school.

144 pages / Ages 10+ / Reviewed by Julie Broadbent, school librarian
Suggested Reading Age 9+
Other titles