Edie and the Box of Flits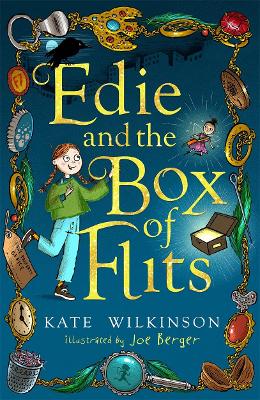 By Author / Illustrator
Kate Wilkinson, Joe Berger
Genre
Magical Realism
Age range(s)
7+
Publisher
Templar Publishing
ISBN
9781848129108
Format
Paperback / softback
Published
22-07-2021
Synopsis
A modern classic for readers of THE BORROWERS - about 11-year-old Edie Winter and her magical box of winged people that only children can see.When eleven-year-old Edie Winter finds a mysterious box on the London Underground she's amazed to discover that it's home to a family of Flits - tiny winged people. But Impy, Speckle and Nid need Edie's help. Not only do they need supplies (rice crispies, sugar sprinkles, digestive biscuits and raisins) and someone to look after them, but their brother Jot has run away and they need Edie's help to find him.Set against the backdrop of London and its Underground network, EDIE AND THE BOX OF FLITS is a story about friendship, family and noticing the little things in life. With delightful black-and-white illustrations by animator, cartoonist and illustrator Joe Berger.
Reviews
Jennifer
I absolutely fell in love with this modern but classic feeling magical, fantastical adventure. 11 year old Edie Winter helps out with Dad's job at the London Underground's Lost Property Office. Of all the random things she finds, she never expected it to be a curious wooden box containing a miniscule home with a family of tiny, winged people in - the Flits. Only those under the age of 13 can see these magical creatures and the Flits need Edie's help. Some of their family is missing in the Underground tunnels and there seems to be increasingly odd goings on down there - strange looking sharp eyed birds, passengers complaining of losing jewellery and small, expensive items after their journeys.
Lonely Edie is enchanted and intrigued by her new friends - the fiercely determined Impy and her brothers, Speckles and Nid. This tiny but feisty family are intent on finding the rest of the family and Edie is, excitingly, thrust into a downsized world providing bottle top meals of sugar sprinkles and hiding mischievous Flits in her school bag! The Flits find themselves on the brink of disaster and discovery more than once as Edie tries to keep them hidden, safe and under control! Looming over the micro magical gang are the ever present, ever watchful, sinister looking magpin birds and the Lost Property Office Receptionist Vera Creech, who seems quite inapproachable to Edie but is very fond of birds…
Edie and the Box of Flits is just enchanting. Their small world is built so beautifully by the author within the huge cavernous space of the Underground tunnels. It is a charming, detailed and carefully crafted story and so visually appealing. You can imagine each and every scene coming to life in Borrowers / Spiderwick Chronicles kind of way. The front cover by illustrator Joe Berger is stunning - glistening and embossed with delicious detail and his black and white drawings throughout the book are lovely little peeps into the Flits world.
I adored the book. It would have been a firm favourite with me as a child reader and just captivated me as an adult one. A lovely story about friendship, family and how the little things in life should never pass you by!
288 pages / Reviewed by Jennifer Caddick, teacher
Suggested Reading Age 7+
Other titles