Ella in the Garden of Giverny: A Picture Book About Claude Monet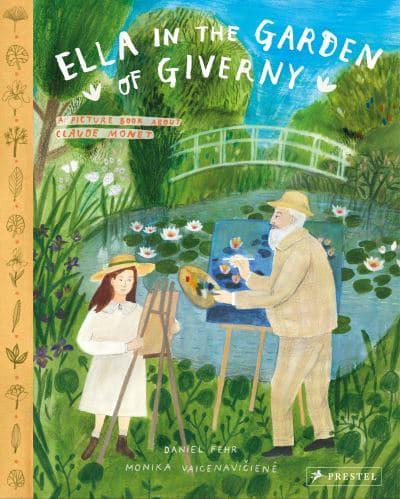 By Author / Illustrator
Daniel Fehr, illus Monika Vaicenaviciene
Genre
Biographies & Autobiographies
Age range(s)
5+
Publisher
Prestel Junior
ISBN
9783791374765
Format
Hardback
Published
08-03-2022
Synopsis
When a young girl meets the famous Claude Monet in his garden at Giverny, she learns the importance of staying true to your own vision.

This intriguing child's-eye view of Monet and the development of impressionism takes as its premise how artists flocked to Giverny at the turn of the 20th century to study the painter's technique. It tells the story of Ella, the daughter of one such artist, who sneaks into Monet's garden, and develops a friendship with him. As Ella sketches, Monet talks about his life, career, and his technique. And he explains the idea of Impressionism in a way that will make children not only understand the genre, but also want to imitate it themselves.
Monika Vaicenaviciene's subtly colored and dreamily delicate illustrations strike the perfect note as they reflect Ella's interpretation of Monet's beautiful garden. Readers will learn about important moments in Monet's life, including his struggles with critics and his own self-doubt, while also appreciating the easy comradery between a wise and experienced artist and a young, opinionated yet impressionable painter.
The book ends with a brief biography of Monet in timeline form and information about impressionism as well as Giverny and museums that feature Monet's work.
Reviews
Sharon
When we read this picture book, Ella in the Garden of Giverny, it suddenly made sense why our teacher asks us to do thing again and again - it's so we can get better at the things we want to do, just like Monet and his waterscapes. "I like how he didn't give up on his painting, even when he wasn't making enough money to look after his family. It must have been tough for them. I love to paint, but don't think I'm very good at it. After reading this story I'm going to paint as well and often as I can, I won't be afraid to paint dreadful pictures and follow Monet's good advice to Ella." H aged 10.
Here is a truly stunning picture book which tells the life story of Monet through the eyes of a young girl, Ella. Ella moves from America with her artist father so he can learn to paint. Little does he know that his daughter strikes up a conversation with the great man and paints with him! Such a clever way to bring art and biography facts together and my year 5 class really enjoyed the story. (Even if they suspected that some of it may be made up!) Either way, they came away from the reading with a greater understanding of the life of the artist and were so much more willing to have a go at painting themselves.
Monika Vaigenaviciene's Monet-style illustrations are delightful, giving a sense of dream-like water scenes throughout. A real gem of a book.
40 pages / Reviewed by Sharon Porter, teacher
Suggested Reading Age 7+
Other titles