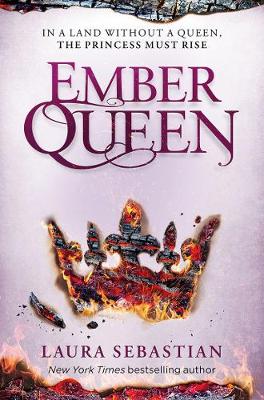 By Author / Illustrator
Laura Sebastian
Genre
Fantasy
Age range(s)
14+
Publisher
Pan Macmillan
ISBN
9781509855162
Format
Paperback / softback
Published
20-02-2020
Synopsis
The Ash Princess is dead. Long live the Queen.

Princess Theodosia was a prisoner in her own country for a decade, made to wear a crown of ash. But there was fire in her blood and she escaped, gathering a misfit army of rebels behind her.

Now they have a new and terrifying enemy - the Kaiserin. Possessed of magic no one understands, she is determined to burn down anything and anyone in her way. As the Kaiserin's power grows stronger and her beloved Prinz Soren is taken hostage, Theo is forced to make a terrible choice - will she overcome her heart to liberate her enslaved people and finally reclaim her rightful place as Queen?

Ember Queen is the explosive final part of Laura Sebastian's New York Times bestselling Ash Princess trilogy.
Reviews
Linda
Ember Queen is the concluding book to the wonderful Ash Princess series, and what an amazing, well written conclusion it has been. This book continues with all the magic, romance, power battles and friendships from the previous books, along with the twists and turns of a complex villain and a brave heroine that makes you want to stand proudly by her side and watch her succeed.

The story begins two weeks after the end of book two, Lady Smoke. Theo emerges from the mines, she is exhausted and covered in dried blood but hasn't a clue where it's come from, she only remembers going into the mine... then her mind is a blank!

Theo and her friends soon begin to learn about her new abilities which Blaise teaches her how to use and control. She also has the ability to 'haunt' Cress in her dreams. Can she use this ability to crush Cress and take back her mother's throne? Will Theo choose to rescue Soren in a foolish mission, or lead her army of misfit warriors to rescue her enslaved people? Cress, who is a marvellous villain in this story, has got powers that no one understands, but will Theo's new ability be able to match it?

Theo is a great heroine, you are able to relate to her as she is not perfect, she doubts herself and needs her friends to help and advise her. She's a great character that has grown throughout the series. She faces a lot of heartbreaking decisions on her path to rescue her people from the Kalovaxions, but her people respect and adore her, giving her the title of The Ember Queen.

Ember Queen has 462 pages of darkness, revenge and magic, it's a high stake fantasy adventure suitable for 14+ readers due to the continuing content of death, torture and murder. These are not written in great depth but are present and well crafted, making this a story that is totally engaging.

I would also recommend this series for book clubs or intervention groups due to the many discussion points the story raises. A great read with an excellent end that wraps things up satisfactorily for the most part. The story is well written and exciting with so much drama.

480 pages / Reviewed by Linda Brown, school librarian
Suggested Reading Age 14+
Other titles