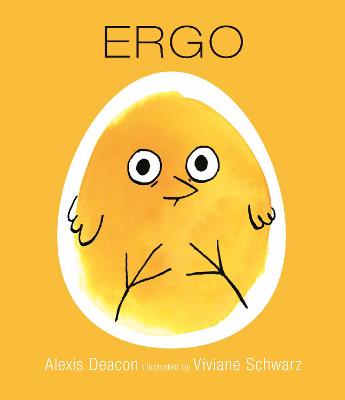 By Author / Illustrator
Alexis Deacon, Viviane Schwarz
Genre
Picture Books
Age range(s)
3+
Publisher
Walker Books Ltd
ISBN
9781406394030
Format
Hardback
Published
05-08-2021
Synopsis
For budding philosophers of all ages, this is the uplifting story of Ergo the chick. Ergo wakes up and sets about exploring her world. She discovers her toes. She discovers her wings and her beak. She has discovered EVERYTHING! But then she considers the wall. And something outside the wall goes BUMP. What could it be? The only way to find out is to peck peck peck through to the other side...

This is an inspiring story told with heaps of humour. Like its predecessor, I Am Henry Finch, Ergo is a book for everyone - from the very young to the very old. It is for dreamers, philosophers, artists, the foolish and the enlightened. A profound picture book experience told with simplicity and style.
Reviews
Catherine
Ergo is a very simple story with simple illustrations and would be suitable for any child in EYFS or Year 1. It would also be nice to use if the class were learning about chicks or had eggs waiting to be hatched in the classroom. The story idea is very straightforward – a chick wakes up and explores the world (her egg) and then eventually pecks out of the egg into the big wide world. The book would definitely be enjoyed by younger children, but I think that once you've read it, that's it. Some stories - you read them and spot things you didn't pick up on before. But this one is very simple - so much so that I think I could only read it a couple of times. Any more than that and it would become boring.
Picture book / Reviewed by Catherine Kus, teacher
Suggested Reading Age 3+
Other titles