Escape the Rooms (the laugh-out-loud funny and mind-blowingly brilliant new book for kids!)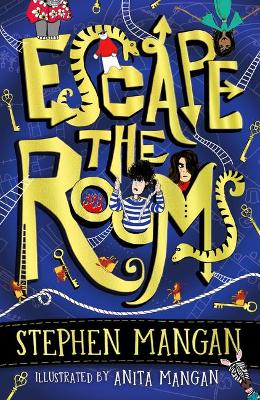 By Author / Illustrator
Anita Mangan, Stephen Mangan
Genre
Funny Stories
Age range(s)
9+
Publisher
Scholastic
ISBN
9781407193625
Format
Paperback / softback
Published
10-06-2021
Synopsis
A high-energy, laugh-out-loud, fully illustrated adventure story by much-loved actor Stephen Mangan and talented artist Anita Mangan. "[Escape the Rooms] is richly imagined and deeply heartfelt, and Anita Mangan's cartoonish and poignant illustrations capture the tone perfectly ... It reminded me a little of The Wizard of Oz, with the children on a quest through different lands to get home." Hadley Freeman, Guardian.
The last thing Jack expected when he bungee-jumped at the fairground was to go plummeting right through the ground into the weird, wonderful Rooms... There he must face a series of puzzles and traps alongside a mysterious girl called Cally, in order for them to find their way home. Throw in a murderous polar bear, hundreds of tiny yet ferocious lions, some mind-blowing riddles, and get ready for a hilarious, helter-skelter adventure like no other!
Escape the Rooms follows two children dealing with loss on an amazing adventure. Wildly funny and endlessly surprising, Escape the Rooms is also a story about friendship, overcoming fears and being kind to yourself. Packed with fantastic pictures created by Stephen Mangan's sister, Anita
Reviews
Nicola
Escape the Rooms is a laugh-out-loud, surrealist tale that leads our two main characters through a journey that is so much more than it seems. It starts when we meet Jack at the fair, doing anything he can to just get through the day, when he suddenly finds himself in a 'Room'. Here he meets Cally, a girl who at first seems cold and hard and the relationship between the two develops as their journey continues. The two must work their way through a series of Rooms to get back to their lives and their freedom and they must work together to solve a series of puzzles and have their characters put to the test.
As they progress through the Rooms they meet bizarre characters who seem to come straight from Dahl or Carroll's Alice in Wonderland. This story is so much more than a simple journey, it is a heart-warming tale of navigating through grief and the unlikely places you can find support, even when you don't want it or think you don't need it.
256 pages / Reviewed by Nicola Mansfield Niemi
Suggested Reading Age 9+
Other titles