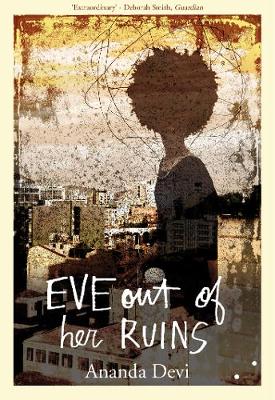 By Author / Illustrator
Jeffrey Zuckerman, Ananda Devi
Genre
Real life
Age range(s)
14+
Publisher
Les Fugitives
ISBN
9781838014148
Format
Paperback / softback
Published
30-04-2021
Synopsis
Two girls: Eve, whose body is her only weapon and source of power; Savita, Eve's best friend and the only one who loves her without self-interest, has plans to leave but will not go alone. Two boys: Saadiq, gifted would-be poet, deeply in love with Eve; Clelio, the neighbourhood tough, waiting without hope for his brother to send for him from France. Born in a part of the island nation of Mauritius which tourists never see, all are desperate to escape their country's endless cycle of fear and violence. This stark, poetically-written mystery weaves together their distinct voices to tell a story of brutality, resilience and personal truth.Winner of the Prix des cinq continents de la Francophonie 2006, shortlisted for the Best Translated Book Award 2017, the Albertine Prize 2018 and the inaugural First Translation Prize 2018, Eve out of Her Ruins was published in English for the first time in 2016.
Reviews
Sharon
Eve Out Of Her Ruins is not a book for the faint-hearted in an extremely positive way. Ananda Devi does not shy away from the bleak life outcomes of four young Mauritians. She paints a picture of social deprivation, fear, violence and gender inequality with a very detailed brush. This is a masterpiece of writing with such emphasis on the desolation the characters encounter.
The story follows the lives of four teenagers growing up in the impoverished Port Louis district of Mauritius and this is such a contrast to the side of the country most people know about. There is Eve, who is using her body as a weapon against the trials she encounters whilst suffering abuse and discovering her sexual identity; Saad, who is deeply in love with Eve, something which will always be unrequited but who does not flinch from being there for her; Clelio, desperate to flee the island to join his brother in France and meanwhile dabbling in the gang culture which blossoms within the district; and Savita, who means so much to Eve and sadly is murdered because of this.
The text is translated from the original French by Jeffrey Zuckerman but none of the eloquence of the original language has been lost. A novel which tugs at your heartstrings whilst appalling you through both the subject matter and the use of the most poetic description. Most definitely a read for older students due to the subject matter and one to be recommended to anyone interested in gender equality, sexuality, abuse and poverty. It would have cross curricular links in a school context but, more importantly, it is one of those novels that when you finish it you feel it needs to be publicised wide and far as a priority read.
164 pages / Ages 16+/ Reviewed by Sharon Bolton, School Librarian
Suggested Reading Age 14+
Other titles