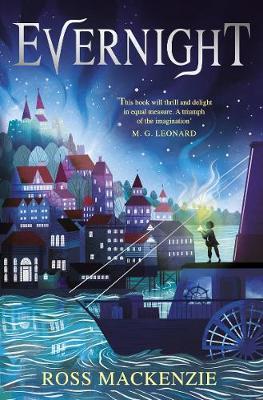 By Author / Illustrator
Ross MacKenzie
Genre
Fantasy
Age range(s)
11+
Publisher
Andersen Press Ltd
ISBN
9781783448319
Format
Paperback / softback
Published
06-02-2020
Synopsis
Q&A with author Ross MacKenzie
Thousands of years ago, the Evernight came to the Silver Kingdom and turned everything to darkness and chaos. It was only defeated thanks to the skill and bravery of the Witches. But now the Evernight is about to return, released by the evil Mrs Hester, and the only spell that might stop it is lost, deep below the great city of King's Haven. Then orphan Larabelle Fox stumbles across a mysterious wooden box while treasure-hunting in the city's sewers. Little does she realise she is about to be catapulted into an adventure, facing wild magic and mortal danger - and a man who casts no shadow . . .
Reviews
Clare
The Silver King rules the sprawling city of King's Haven. With the aid of his Chief Witch, Mrs Hester, and an army of enslaved white witches, the Silver King's considerable power permeates the city. But a troubling phenomenon is disturbing the king - white witches are being enticed away by the hated and exiled Hags; rebels, who seek out those whose souls have not been stolen by the evil Mrs Hester. As the Hags grow in power, the Chief Witch seeks ever more desperate ways of controlling them and with a Djinni now under her command, she seeks a permanent and deadly solution.
Meanwhile, beneath the streets, 'tosher' Larabelle Fox continues her daily hunt for treasure in the murky and dangerous sewers. She and her friend Joe barely eke out a living but a chance find changes everything and when Mrs Hester finds out, Larabelle's life is soon in danger.
I loved so many of the ideas in this book and what could have been a complicated and convoluted backstory is neatly explained in a single chapter. It's a thrilling page-turner, brought alive by some wonderfully Dickensian characters. However, there are some very violent and genuinely frightening scenes in this book and whilst I was hooked I would be careful when recommending this to some younger readers. Hugely entertaining and nicely set-up for a sequel but nervous readers, beware!
352 pages / Ages 11+ / Reviewed by Clare Wilkins, school librarian
Suggested Reading Age 11+
Other titles