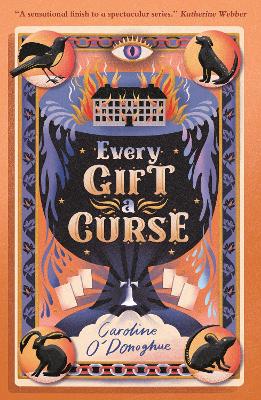 By Author / Illustrator
Caroline O'Donoghue, Stefanie Caponi
Genre
Fantasy
Age range(s)
14+
Publisher
Walker Books Ltd
ISBN
9781529507973
Format
Paperback / softback
Published
02-02-2023
Synopsis
A spellbinding supernatural teen drama and final book in the Gifts series from a New York Times bestselling author.

With the return of the Housekeeper on the cards, Maeve must find out everything she can about the vengeful tarot spirit in order to finally defeat her. Crossing over into a parallel dimension inside the old school building, she explores the history of the Housekeeper - and spends too long in a world and a mind not her own.

With the Children of Brigid closing in once more, and Maeve's friend group now fractured across Ireland, can they hope to ultimately save the town - and Maeve - from the grip of a power greater than they ever imagined?
Reviews
Linda
Every Gift is a Curse is the final book in the supernatural YA series All our Hidden Gifts; and like the first two instalments it doesn't let you down. Get a copy and get ready for a creepy, at times sinister, rollercoaster ride...
The Housekeeper has returned into the Tarot cards. This time Maeve and her magical friends need to put her to rest for good. In order to do this, Maeve must go back in time to see how the Housekeeper was created. Will Maeve have enough power to do this? What will exploring the history of this woman do to her mind?
As ever, things are never easy in supernatural stories and the plot thickens as the cult, The Children of Brigid, are once again seeking them out, trying to get in between their friendship to weaken their powers. How is this cult surviving, developing its own power?
This final, spellbinding instalment is suitable for 14+ readers due to the issues raised as the plot develops. Amongst these are bullying, racism, discrimination, witchcraft and LGBTQ issues that some teenagers can relate to. It has got some dark, sinister/creepy moments that create the tension as the plot thickens. This author clearly knows her craft at keeping her audience engaged, making it great for book clubs due to the many discussion points raised between its pages; just because it's a fantasy story doesn't mean that the characters don't have relatable issues.
I've really enjoyed this series, it's well written with believable characters and a plot with many twists and turns that you don't see coming  and with an unexpected ending. A must read for 2023!
416 pages / Reviewed by Linda Brown, school librarian
Suggested Reading Age 14+
Other titles